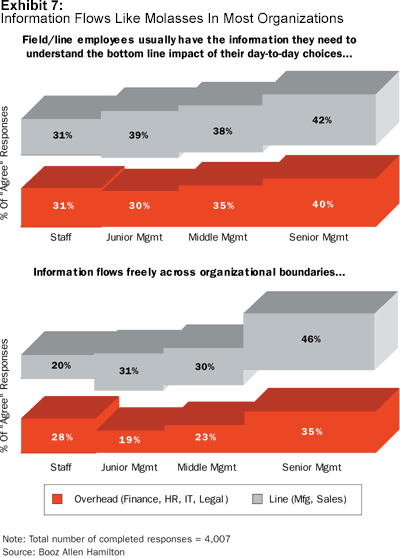 Consistent with their views on decision rights, overhead employees are also the most negative in their assessment of information flows. Although still sore points, information access and decision rights are less of a struggle for line organizations. Still, survey responses overwhelmingly point to the need for improved information, tools, and incentives for decisionmakers in all parts of the organization (see When Everyone Agrees, But Nothing Changes; Driving Demand Management for Internal Services; Attacking Overhead Costs from Both Sides).
Bio-engineering Tomorrow's Corporation: What Booz Allen Brings
Preliminary results from the Org DNA Profiler™ assessment tool overwhelmingly confirm the hypothesis that most companies today face organizational impediments to effective execution. Whether they fall into the Passive-Aggressive profile or the Outgrown, their organizational DNA is thwarting their own best efforts…and ultimate success.
As they confront problems within their own organizations, companies are also contending with an increasingly complex global marketplace, where the only constant is continual discontinuous change. According to our early results, less than half of the Profiler respondents at all nonexecutive levels agree that their companies "deal successfully with discontinuous change in the competitive environment." Even among senior managers, only half agree with this statement.
When an organization's DNA is poorly configured, it exhibits unhealthy symptoms and counterproductive behaviors. The first step in fixing these problems is to identify and isolate them. That is the purpose of the Org DNA Profiler™ assessment tool. Using a framework that examines all aspects of a company's architecture, resources, and relationships, the tool allows management to gain insight into what is and is not working deep inside a highly complex organization.
But generating a profile is not the point; it is only an exercise designed to focus managers on the root causes of their organizational disconnects and execution problems. It is up to management to translate these findings into sustainable solutions. Booz Allen can help. Our teams of experienced, cross-functional experts help senior management of large companies identify, diagnose, and remedy common organizational "roadblocks" to effective execution with an array of services and tools to facilitate one-time change initiatives, as well as longer-term transformation programs. As an example, Booz Allen offers companies the opportunity to identify and improve their organizational DNA through a facilitated one-day workshop for senior management. Using the Org DNA Profiler™ assessment tool as a starting point, top executives, business unit heads, and staff leaders (from 10 to 100 or more) come together at an offsite location to identify the impediments to effective execution in their organization and develop sustainable programs and processes to overcome them. More offsite information, including a sample agenda, is available at www.orgdna.com.
In addition, Booz Allen devotes significant attention and resources to synthesizing and presenting our best thinking on organizational effectiveness in short "white papers" or Viewpoints. Some of the most recent and relevant are outlined below.
Org DNA Readings & Tool Kit:
The Four Bases of Organizational DNA. The ability to execute is embedded in the management processes, relationships, measurements, incentives, and beliefs that constitute an organization's DNA. Like the DNA of living organisms, the DNA of living organizations consists of four building blocks (decision rights, information, motivators, and structure), which can be realigned and adjusted to improve organizational effectiveness.
When Everyone Agrees, But Nothing Changes. From the CEO on down, senior executives continually lament the amount of time they spend wrestling with organizational problems rather than building their business. This Viewpoint explores how to align people, incentives, and knowledge to overcome organizational inertia.
Managing Customization Complexity in Service Companies Too many service companies have embraced customization in the name of growth without adapting their operating model to balance the resulting complexity costs. Consequently, companies outgrow their operating model, thereby risking their business resilience. The solution lies in adapting the "DNA" of the organization to identify, isolate, and optimize complexity.