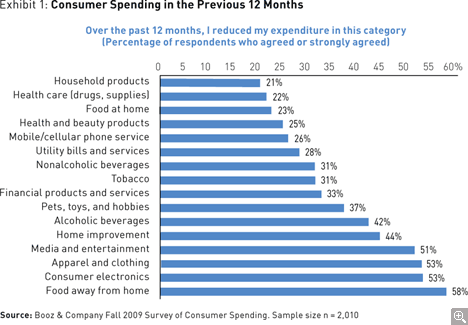 More significantly, a year after the meltdown in the financial markets, less than 20 percent of consumers say they intend to revert to their pre-recession spending habits within the next 12 months. (See Exhibit 2.)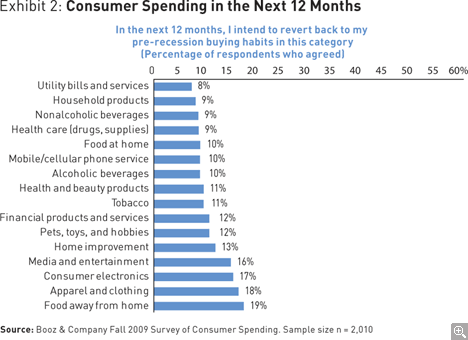 The newfound frugality and value consciousness informing consumer behaviors are not relegated to "opening price point" (OPP) merchandise (the lower-priced goods that typically include but are not limited to retailers' private labels). Consumers are still buying across a wide range of price points, but they need more reason to justify trading up, whether they are moving from an OPP to midline price point or from midline to premium. They won't accept a price gap unless they perceive a clear value advantage in quality or connect emotionally to key brand attributes. And even then, many consumers will still require a price break (via promotions and coupons) to rationalize trading up to the brands they prefer. They may also be unwilling to trade up if they perceive the jump as too great. For instance, some shoppers may trade up from a private label to a value-priced brand but still not buy a premium-priced brand.
It is also important to recognize that the new frugality is encouraged and supported by longer-term trends, such as the retail emphasis on private labels, the ease of shopper research and buying via digital media, and innovation and intensifying price competition among and within retail formats. For example, the increased use of consumer and trade promotions by manufacturers, the number of consumers who like the experience of "trading down," and the ease of using online research to compare products and features as well as to identify which stores offer the best deals (not a factor in previous recessions) have all amplified price sensitivity. New retail formats, such as low-cost kiosks for DVD rentals, are also offering consumers more options as they seek out trade-down opportunities. These longer-term trends — in combination with the short-term pressure on shoppers' checkbooks and their financial fears — have accelerated and reinforced the growing consumer emphasis on value: the best combination of price, brand, and convenience.
Finally, the behavioral differences inherent in the new frugality are hardening across demographics, including income, gender, ethnicity, and age. For example, although consumer spending in discretionary categories is slightly more constrained in some segments, such as women, lower income brackets, middle-aged consumers, and Hispanics and Asian Americans, there is surprisingly little difference in the expenditure reductions among demographic segments.
Beyond Traditional Demographics
To be sure, there are some significant differences among consumers when it comes to the new frugality. Although all consumers are more frugal and value-driven today, there is a significant degree of variation in their definitions of "value." These variations reflect different approaches to spending categories, price sensitivity, brand loyalty, methods for researching products, and shopping preferences. The old consumer segments, based on demographic factors such as age and ethnic background, no longer seem as apt in distinguishing consumer behavior.
In an analysis of the shifts in consumer behavior and spending uncovered by the survey, six statistically significant consumer segments emerged. They represent relatively nuanced views of the population, essential for companies that seek to market to frugal, value-driven consumers:
Shoppers 2.0: Representing the most technologically advanced 16 percent of the survey sample, the Shopper 2.0 segment shows the greatest tendency to buy online across categories. Its members are price sensitive, frequently use coupons, and exhibit little brand or format loyalty.
Deal Hunters: Representing 21 percent of the survey sample, the Deal Hunters segment is highly price sensitive. Its members are heavy coupon users with low levels of brand or format loyalty. Unlike those in the Shopper 2.0 segment, they are not inclined to buy products online; they direct their price-focused online research to getting the best deal in the store.
Online Window-shoppers: Representing 11 percent of the survey sample, this segment conducts a high level of research online but, like the Deal Hunters segment, is less likely to purchase online. Its members exhibit a more modest degree of price sensitivity and brand switching than those in the Shopper 2.0 and Deal Hunters segments.
Channel Surfers: Representing 20 percent of the survey sample, people in the Channel Surfers segment are the most willing to hunt for the brands they love and most likely to switch retail destinations to seek out those brands at favorable prices. Members of this segment are the most likely to trade off convenience to get good deals on the brands they want.
Loyalists: Representing 15 percent of the survey sample, the Loyalists segment is the least likely to change brands and retail formats, at least for reasons of price. Its members conduct research and buy online, often seeking to preserve their established brand preferences.
Laggards: Representing 17 percent of the survey sample, the Laggards segment is the least interested in changing behavior. These individuals conduct very little online research or purchasing, and they exhibit the lowest level of coupon usage. They are not particularly motivated to switch brands or retail format. Their small number — less than one in five of the overall population — is itself a significant indicator of the magnitude of the overall shift in consumer behavior.