As the descriptions above indicate, behavioral traits, especially price sensitivity and online behavior, vary among these six segments. (See Exhibit 3.) Thus, marketers and retailers that use traditional approaches to targeting shoppers based on demographics alone risk missing opportunities to better meet shoppers' needs and communicate with them more effectively. Conversely, by building behavioral insights — such as price sensitivity and online behavior, as well as category, retailer, and occasion preferences — into their marketing strategies to better target shoppers, marketers and retailers can create a new source of sustainable competitive advantage.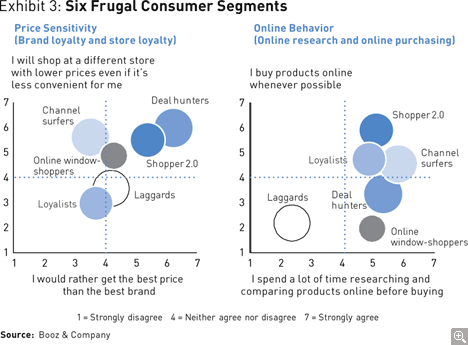 Two Marketing Imperatives for a Value-driven Era
To effectively compete as a consumer marketer or retailer and win over today's consumers, you will need to reassess your marketing strategies and ensure that they are properly aligned with your operating models. You should undertake this work with two imperatives in mind.
First, you need an explicit and intense focus on value to address the new frugality among consumers. Whether you are a retailer or a marketer, this means examining and, as necessary, adjusting your product assortment and pricing strategies. In rethinking your assortment, assess your existing product portfolios by category. Review the number of price points and optimize the gaps between your price points in each category. Also review your innovation pipelines to ensure that the new products you launch all deliver clear value (with the right combination of brand and convenience) to attractive and growing customer segments.
In terms of pricing, resist the temptation to respond to competitive thrusts and consumer demands with blunt, across-the-board price reductions. Instead, identify the consumers that you have the "right to keep" on a profitable basis. In addition, it is essential to establish clear, dedicated pricing strategies, value propositions, and operating models for various channels in order to deliver the proper value in each channel and avoid incurring unnecessary complexity and costs.
The second imperative has to do with advertising and promotion. Your marketing goal, in this environment of new frugality, should be to create a path to purchase that addresses the decisions consumers are more likely to make in this context: where to shop, which price points to consider (such as midline or premium), and brand selection outside the store or at the shelf. To accomplish this, you will need to embrace new advertising and promotion capabilities, particularly innovative digital approaches that better engage consumers and activate desired behaviors. You will find that more effective advertising and promotion approaches, based on enhanced consumer insights and more integration of your activities all along the path to purchase, go hand in hand with a greater focus on value.
In your advertising and promotions, capture deeper insights into consumer behavior by brand, shopping occasion, and particularly retail format. This is a key first step to building stronger shopper marketing capabilities. Shopper marketing, which currently accounts for approximately US$35 billion in spending for consumer packaged goods marketers in the United States and is the fastest-growing category in advertising and promotion, offers the means to better understand the way shoppers make decisions, to identify the key equity messages required to best communicate with them and drive desired behaviors at each stage of the path to purchase, and to deliver differentiated messages accordingly. Finally, you should align metrics across in-store and out-of-store marketing, moving beyond demographics for advertising and beyond sales lift for promotions.
In terms of the overall marketing effort, the most effective companies are also strengthening their "clicks to bricks" integration. You should consider focusing your digital marketing and e-commerce efforts based on a robust understanding of the consumer segments that are most critical to your current profitability and future growth. Because 30 to 60 percent of retail sales across a variety of major categories are now influenced by online research and shopping, you should also devote explicit attention to engaging shoppers along the full path to purchase, rather than treating online and in-store interactions as silos.