The logic of growth through focus also suggests a very different view on planning and leadership. Many companies tend to make long-term strategic plans, but they often have a short attention span in execution. CEOs and business leaders get seduced by doing something new and different well before the strategy has had time to play out. We recommend the reverse: Plan quickly and then stay the course for a long time, as long as five years. Leaders should resist the temptation to change strategies too often.
Seven Steps in Growth through Focus
Our experience suggests that growth through focus requires the organization to progress systematically through a set of seven steps: discovery, strategy, vision, people, execution, organization, and metrics. Taken together, they represent a powerful formula for driving profitable growth.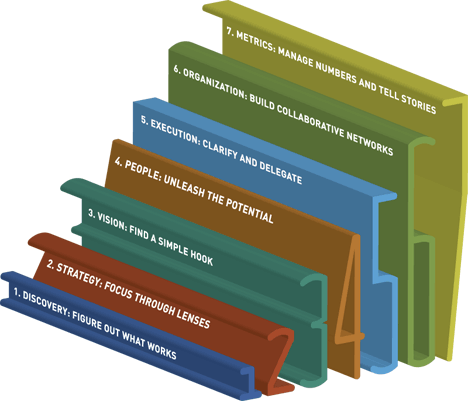 1. Discovery: Figure Out What Works
Science fiction author William Gibson observed, "The future is already here. It's just not very evenly distributed." And so it is with excellence. All large companies have pockets of excellent growth performance. The first step in the growth journey is to discover what is working well and where the company is already winning. These pockets of excellence help identify focus areas for growth. An effective way to uncover what works is to conduct a series of workshops with the top leaders from the company.
At Unilever's Lipton beverages business, the process began at Colworth House, the company's R&D center in the United Kingdom. The top 100 leaders of Unilever beverages from around the world were invited to a workshop in 2000, whose agenda was to build upon what was working well in specific markets and to scale the success across other geographies. One year later, this was followed by a "10 in 10" workshop in Brussels to discuss how to achieve sales of US$10 billion within 10 years in these markets and to imagine the future of Lipton as seen through the eyes of Unilever's major competitors.
In Kraft Foods' international business, the growth process kicked off in 2007 with seven workshops in six locations around the world, each including about 20 of the company's regional business leaders. The agenda was open-ended, with the top leaders taking a backseat to prevent their rank from impeding the flow of ideas and insights. An external facilitator ensured that collective experience was gathered objectively. The workshops focused on what worked rather than on what did not work, because it is easier to build on what is working than to fix what isn't working. To ensure a customer focus, workshops included extensive immersion with consumers and customers to provide insights into behavior, needs, and problems. This kind of immersion generates insights in ways that quantitative market research never can.
A few themes began to emerge from the workshops. Kraft Foods had excellent people, but their insights and ideas had been getting lost because of geographic dispersion, and their potential was not being fully realized. The company's iconic brands had been built over many years, but several were underperforming. The planning process had tended to focus internally instead of externally, and had looked backward rather than forward. There was a lot of emphasis on analyzing what happened instead of figuring out what needed to be done. The conclusion was clear. The company urgently needed to establish clear priorities and accountability at a global, regional, and local level.
At the outset, the discovery process should be inclusive and democratic. It is important to involve key stakeholders within the company, particularly those who can make a valuable contribution and those who have the influence to get the masses of employees behind them. In addition, great insights often come from engaging with suppliers, creative and media agencies, and consultants who have worked with the company for a long time. On the other end of the spectrum, it is also important to listen to people who push back — and to manage dissent. As the process goes on and the framework and vision are agreed upon, debate on the strategic framework should cease and the emphasis should switch to execution.