The most competitive Latin American companies are motivated to become multinational so they can raise capital in foreign markets at favorable international rates and increase their liquidity. Few Latin firms are listed on the world's leading stock exchanges, and those operating only in single countries are handicapped from doing international IPOs. Grupo Bimbo SA (Mexico's largest packaged bread operation) and Carvajal SA of Colombia (which has a publishing and printing operation in every country from Mexico to Argentina, and recently expanded its "yellow pages" operation with the acquisition of Listel in Brazil) are among the multilatinas that are aggressively acquiring companies or entering into joint ventures to consolidate their positions across Latin America and move ahead of MNC competitors.
During the next decade, alliances, mergers, acquisitions, and managing intraregional competition among local and non-Latin companies will be critical components of corporate strategy in Latin America. Although MNCs still hold a lot of the competitive cards in most sectors, these traditional powerhouses from outside the region will have to learn new survival skills to live and thrive among the increasingly influential multilatinas.
The Multinational Boom
Multinationals have been building their positions in Latin America for decades in the automotive and pharmaceutical industries, and in such consumer product categories as tobacco and health and beauty aids. Beginning in the 1960s, British American Tobacco PLC (BAT) and Philip Morris Companies Inc. bought practically all the tobacco companies in their sector. Later, consumer giants Unilever PLC, Colgate-Palmolive Company, and Procter & Gamble Company took over most local health and beauty aid companies.
After the 1982 debt crisis, which started in Mexico and dried up foreign investment throughout the region, Latin America entered a period of economic decline that some have labeled the region's lost decade. But by the late 1980s, there were signs of political change and economic improvements, first in Chile (fast growth there from 1987 to 1996 reduced poverty levels by 23 percent, according to the World Bank), and then in other Latin countries that instituted similar political reforms and supported growth and antipoverty agendas.
GDP and per capita income grew rapidly, as did the size of the middle- and low-income consumer groups that are so critical to the growth of global and local companies. (See Exhibit 2.) After years of military dictatorship, democracy became well established. Other liberal economic programs, including privatization, deregulation of key industries, and tariff reductions, also prevailed. Privatization of state-owned industries opened entire sectors — telecommunications, electric utilities, oil — to local and foreign investors. Concurrently, economic integration and trade accords, including the Mercosur and Andean pacts and the North American Free Trade Agreement (NAFTA), created regional markets that stimulated trade and investment flows. The regional trade pacts made it feasible for the first time for companies in Latin America to coordinate operations in adjacent countries to achieve economies of scale and scope. Foreign MNCs now had real incentives to grow their subregional and panregional operations, and local companies could now go regional.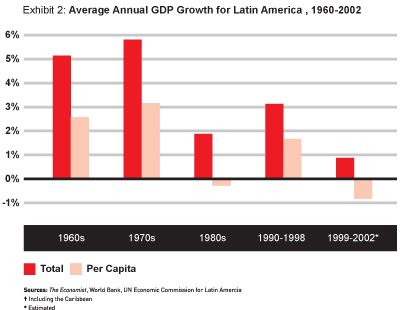 A Second Surge
Stimulated by liberal economic policy and the boom in capital markets, Latin America experienced a second "multinationalization" surge in the 1990s. This happened in several waves, sector by sector, as major foreign players acquired companies and then consolidated their positions across the region. Three types of events triggered these industrial buying booms:
Privatization of State-Owned Industries. From 1991 to 2000, state-owned enterprises' share of the top 500 companies' sales declined by 10 percent, while the multinationals' share increased by 13 percent. Although most of the prime candidates have already been privatized, the trend has continued; for example, the Spanish energy company Repsol became one of the world's biggest oil firms when it bought Argentina's state-owned YPF to form Repsol YPF in 2002.
Battles for Regional Dominance among Global MNCs. For instance, over a 10-year period, Spain's two largest banks, Banco Santander Central Hispano SA (BSCH) and Banco Bilbao Vizcaya Argentaria SA (BBVA), snapped up banks to become leaders in every major market in Latin America. Sometimes global competitors have used Latin America as a battleground to win global dominance in an industry. Nestlé SA and Unilever, seeking worldwide domination of the ice cream category, acquired most of the large local Latin American companies in the sector in only a few years.
MNC-Led Industry Transformations. Such sectors as retailing, in which the rules of competition are changing quickly, proved ripe for acquisitions and alliances. New entrants from outside Latin America overwhelmed local companies. U.S. giant Wal-Mart Stores Inc. rapidly gained leadership in Mexico and has expanded southward, while global retailers of European origin — Makro NV of the Netherlands and France's Carrefour SA — started in Brazil and Argentina and are moving north. All are formidable competitors.