Non-Latin entrants also underestimate the challenge of serving the typical Latin American mass-market consumer profitably.
On average, MNCs' Latin operations over the past few years have been less profitable than local competitors' operations. (See Exhibit 3.) Why does this happen? When an MNC quickly pushes an acquisition into a cross-border organization, it risks destroying the unique value that made the company attractive in the first place. Major sources of intangible value — local brands, price points geared to the low-income mass market, tailored distribution systems, and management practices that recognize each market's economic and cultural peculiarities — may be lost when a multinational alters the local business model and operations.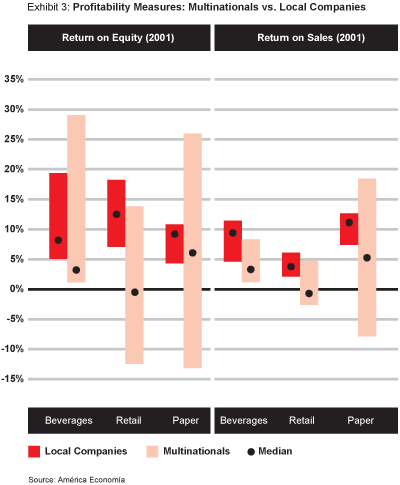 An acquired company's returns almost always fall in the first year, because costs go up. With a more expensive and less experienced expatriate typically running the operation, wages and salaries grow, response times slow, and overhead balloons. Foreign MNCs also suffer when they try to increase market penetration of global brands by displacing or minimizing promotion of a popular local brand.
In the long run, MNCs can generate value in Latin acquisitions in two ways: by increasing productivity and by capturing synergies. The first tactic, though, merely allows a company to operate at parity with its local competitors. Successful local companies, especially leaders with access to world-class best practices and technology through their relationships with global consultancies and equipment vendors, or through alliances, tend to operate quite efficiently, setting a high bar for MNC newcomers. Many independent local companies have results that global players in their industries would envy. In 2002, 17 Latin American companies — eight in food and beverages/beer — had return on equity of 10 percent or better. Even in embattled industries, such as airlines and steel, there are Latin American companies, such as Lan Chile (the Chilean airline), Copa Airlines (the Panamanian airline), and Gerdau, that have world-class operating practices and are globally competitive.
Acquisition strategies to capture synergies among companies must take shape long before individual acquisitions are targeted; MNCs need to plan to build network scale. Their aim must be more than building market share country by country; they should seek to meld complementary operational capabilities that can be exploited across several countries or the entire region. In production, network scale is critical. Instead of having redundant factories in each country, a corporation can use a single factory to serve several markets. In marketing, too, companies can exploit network scale by creating pan-Latin brands that attract customers across multiple markets. MNCs can also achieve overhead efficiencies by building a shared-services infrastructure for business management functions such as finance and human resources. Most MNCs building network scale try first to improve performance of acquired stand-alone operations, then develop networks within subregional clusters (e.g., the Andean region, Mercosur, or Central America). This is followed by more expansive pan-Latin integration, and finally a stage in which they are managing the Latin American market as a whole.
Global companies that have been operating profitably in Latin America for years often started as a collection of individual companies. This was the strategy of BAT in tobacco, which produces and markets predominantly local brands. Over time, as it developed global brands and pursued global sourcing, BAT's operations were integrated. Pfizer Inc. and Unilever manage Latin America in regional clusters, although some functions, such as sourcing, have regional or global management. MNCs addressing Latin America as a single (or nearly single) market use shared services, competency centers, category management, and integrated sourcing across the entire region. Procter & Gamble is the leader in developing this management model.
Companies operating in Latin America at the " single-market" level can leverage the Internet, other information technologies, and flexible cross-border organizational models to achieve economies of scale and flexible local market response that equal what's possible in the United States or Europe. Most multinationals operating in Latin America have not achieved the most advanced stages of network integration, even though they face greater pressure today to do so (and quickly), especially if they're making multiple acquisitions and have not achieved good results.