The striking customer popularity and financial success of Southwest Airlines, Nucor Steel, and Commerce Bank have led many business executives and corporate strategists to proclaim that focus is the only viable approach to fending off competitors and achieving above-average shareholder returns. We disagree. Focus has natural limitations. At some point in a firm's evolution, its focused market — whether premised on geography, product, service, or segment — must inevitably become saturated.
The challenge for companies is not achieving a single point of focus. It is harmonizing multiple points of focus. No company is immune from the new customer mantra: "I want what I want." In industry after industry, customers are demanding ever-higher levels of customization — products and services tailored to their needs. And they're confident that, in an economy characterized by greater and greater information transparency and laden with information technology and operational advances that make customization possible, they stand an excellent chance of getting it — from inside or outside their existing supplier base.
The way a company adapts its business model and its organization to demands for customization can make the difference between performance that leads a sector and performance that lags industry peers. Indeed, companies that more effectively balance the value that customization brings to their customers with the complexity costs it can impose generate organic sales growth and profit margins significantly higher than their industry average, according to a Booz Allen Hamilton study of product and service companies in North America and Europe. The study, which benchmarked business units with sales from $1 billion to more than $20 billion at 50 companies, found striking differences between companies that adapted and aligned their customer strategies and fulfillment operations, and those that constructed more ad hoc responses to customer demands. The research encompassed such industries as consumer goods, chemicals, telecommunications, media, and financial services. The study revealed a two-to-one performance gap between "smart customizers" and "simple customizers." (See Exhibit 1.)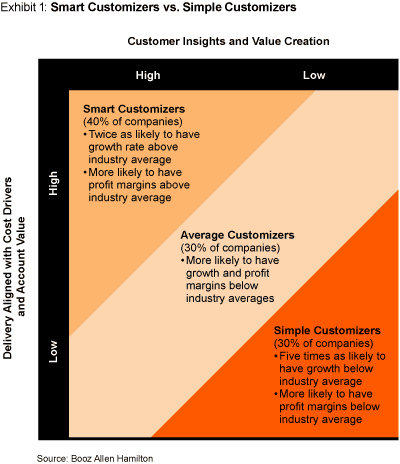 Moreover, the Booz Allen study, conducted over six months and involving such companies as Unilever, Campbell Soup, Rohm & Haas, BP Castrol, Sprint, Ericsson, Time Warner, Hearst Magazines, Fleet, and Sun Trust, among many others, found that higher-performing companies consistently focus simultaneously on the same three best practices. Smart customizers:
Understand the sources of value that customization provides their customers.

Evolve toward "virtuous variety" — the ever-changing point at which customization adds value to both company and clientele.

Tailor their business streams, aligning them to customer need, to provide value at the lowest cost.
Although smart customization seems like common sense, our study shows that comparatively few companies are successfully trading off the value of customization with the cost of complexity. We found that roughly two-thirds of companies with customization programs have failed to increase both their top-line and their bottom-line performance. For the most part, we discovered customization efforts that are shotgun collections of complexity: They take sales and marketing focus from the truly value-added offerings, remove focus from the most profitable customers, and drive disproportionate cost without associated revenue.
Cost of Complexity
Most companies remain stymied by the challenges of optimizing complexity — managing the trade-off between customers' demands for variety in products and services, and the ballooning costs of meeting those needs.
Firms tend to add complexity to their product or service mix for one of two reasons: to create value for a customer segment, or in response to competitive activity. But because they often don't refresh their "participation choices" — the decisions about the markets they serve and the ways they serve them — companies can lose sight of the true value of a customer segment and the cost impact of the programs they develop. They don't target customer needs well enough to provide products and services that either are true "order winners" — offerings that set one company apart from another in the quest for customers — or provide continuing value to existing customers. Just as important, they don't possess a deep enough understanding of cost drivers and can't distinguish between easy and difficult forms of customization, which limits their ability to access scale and scope efficiencies.