Inside the Mind of the CEO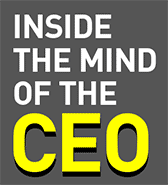 The Inside the Mind of the CEO interview series explores a wide range of critical decisions chief executives around the world face in today's dynamic society.
Paul Polman, former chief executive of Unilever, explains why partnerships among government, civil society, and business are urgently needed.
How Beth Mooney, CEO of KeyCorp and chair of the Cleveland Clinic, earns trust in banking and healthcare.

How Peter Amangbo, outgoing group managing director and CEO of Zenith Bank, positioned it to win the 30 percent of Nigerians who don't have bank accounts.