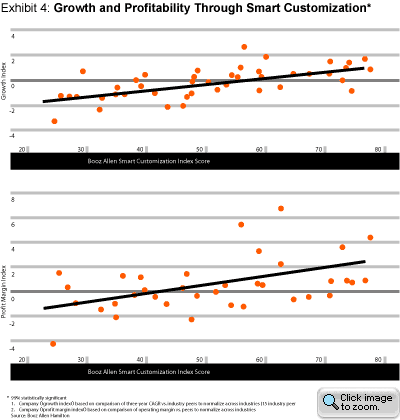 The BOC Group, a United Kingdom–based major supplier of industrial and medical gases, exemplifies the smart customizers we found in our survey.
To improve its performance, BOC embarked in 2001 on a program that was led from its corporate core, but subsequently was extended to its country markets through a series of pilot programs. The company first developed a robust behavior-based segmentation that balanced the distinct requirements of different customer segments with an understanding of how to align its business model to create value and maximize operating performance from serving these needs. The segmentation identified needs along a few primary dimensions, notably the value placed on service and the desire to obtain the lowest price.
BOC first tested its more customized approach in one country market. It identified approximately 20 percent of its customers there as "service buyers"; this segment opted into a volume purchasing commitment. These buyers were to be served at BOC by a modular supply chain that separated the more complex processes associated with serving them from the simpler needs of another important segment, "price traders." First, the company added a flag to its enterprise resource planning system to identify incoming orders from service buyers. It then redesigned its order fulfillment and delivery processes to give priority in its system to these orders. Through tactical planning, short-term production needs were balanced to ensure in-stock levels, and trucks were optimized to ensure timely deliveries. Finally, customer teams managed execution seamlessly.
This business stream contrasted with the stream developed to serve price traders. To make up for the lower prices that this customer segment pays, BOC rigorously reduced the costs of its sales, marketing, and customer service organizations. Ordering was automated in electronic systems, and broad-based, inexpensive marketing channels were utilized to ensure that price traders would benefit from the cost savings. Performance metrics were created to make sure that the cost-to-serve was monitored directly for this segment.
BOC has received significant benefits from its smart customization pilot. The long-term contracts with service buyers allowed the company to take costs out of its business system, while locking in revenue growth through the volume commitments these customers made. And the simpler, lower-cost relationship with price traders has enabled BOC to serve this more volatile portion of the market more successfully, without subjecting its entire business system to that volatility.
By improving its focus on the specific needs of both segments, BOC has built market share in each, resulting in 10 percent faster growth in the BOC country unit that piloted the program, compared with the rest of the company. Based on the strong initial results, BOC is now tailoring its systems for other customer segments, and has begun extending the lessons to other country markets.
Optimizing Complexity
To fully capture the benefits of smart customization, companies must focus on three sources of improved performance:
1. Understand the sources of value from customization. Companies often attempt to generate additional value through more differentiation and more complicated segmentation. They add assortment, insert new specifications to products, create brand extensions, and design value-added services. Over time, competitors also add more variety, segmenting the market more narrowly, to differentiate themselves and to stimulate additional demand. Typically, the focus is on capturing the next share point without fundamentally changing the production and delivery system. Costs remain under reasonable control, and profits increase.
Problems arise, though, when companies "overshoot" the optimum level of complexity; further customization efforts start to cut into margins. Soon, they reach a tipping point at which the additional complexity drives costs up faster than the incremental revenues from differentiation.
What's more, when a company is engaged in a customization competition with industry rivals, it's hard for it to keep an eye on growth and costs simultaneously. Most companies end up driving customization efforts with one foot on the gas and one foot on the brake; they get nowhere fast and wear out their performance engine. Simply striking an appropriate balance between more and less variety can certainly boost growth, but it isn't enough to generate superior earnings or shareholder returns. What companies really need is a calculation of value that reflects both the opportunities in the segments they choose to serve and the potential for effective delivery.