2. Evolve toward "virtuous variety." To generate a step-change in performance and positively shift the customization revenue curve (see Exhibit 3, arrow 2), companies must gain a deeper understanding of different segments' needs, and distinguish the unique requirements of some segments from the needs common to all. This can be accomplished by separating "order qualifiers" from "order winners."
Order qualifiers are products and services that are required if companies want to stay in the battle with competitors. They're generally not drivers of growth, though, because they are part of an arms race in which minimum product and service requirements continually escalate, regardless of whether they produce sustainable gains. A company must match the arms race at least possible cost by standardizing as many components of order qualifiers as possible.
Order winners are products and services that meet a customer's most critical needs. Order winners can vary across segments, although many threshold needs are shared across segments. By developing a clear understanding of what customers' order winners are, a company can create customized offerings that capture market share and deepen strategic relationships, and still preserve economies of scale and scope.
3. Tailor business streams to provide value at least cost. Smart customizers match their segmentation strategies with delivery mechanisms designed specifically to serve each segment profitably. In our parlance, they "tailor the business streams" to provide the highest value at the lowest cost.
Tailoring business streams (TBS) is a powerful approach for optimizing the complexity that is a natural by-product of an increasingly competitive, transparent, and interdependent economy. Businesses can create and align multiple flows to serve multiple needs, delivering differentiated services and products. The simplest and most predictable products/services flow through the most efficient streams of people, asset management control systems, and processes. Harder, less predictable undertakings flow through a more robust infrastructure. The streams can be kept distinct to prevent costs from rising; easy operations don't require expensive management and operational infrastructure that more complicated activities need.
At its core, TBS involves segmenting flows to satisfy different customer requirements regarding cost, value, speed, quality, and predictability of demand. These flows aren't immune to the forces that typically corrupt business models, so it's also necessary to develop policies and control limits that enable each stream to continually create value for company and customer together. The streams also include guidelines for tuning them as market conditions and costs change over time.
Think of these tailored business streams as separate, mini-operating models. (See Exhibit 5.) They include product development, demand generation, production and scheduling, the supply chain, customer care — the many flows that take value from a company to its customers. Each stream may contain people, processes, and technologies required to deliver parts of the product/service offering. Each stream caters to different expectations for cost, quality, speed, and innovation. Each has the appropriate management tools and processes in place to deliver at the lowest cost with the greatest return. But these streams flow together into a consciously integrated whole that isolates the highly complex and expensive parts of the business from the standardized portions. TBS allows a company to create a high degree of differentiation without constraining scale. In addition, a company gains the ability to continually align its business streams with changes in customer value, providing solutions where merited and more "transactional" approaches where customer needs and economics require them.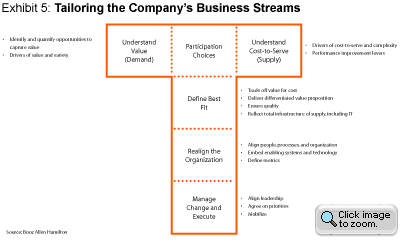 Differentiation does not have to compromise scale. By tailoring their business streams and aligning sales, marketing, and operations strategies with customer value, today's leading companies are able to provide some customers bespoke solutions that truly drive organic growth. Such smart customization is an imperative in current business conditions, not an option. The distance between smart customizers and simple customizers will be measured by accelerating differences in performance. Companies that want to build smart customization need analytical insight to understand the sources of value and drivers of cost, experience in identifying trade-offs and designing solutions, and the change management skills to follow through. We believe the destination justifies the journey.