Perhaps more important, the Internet and network technologies could potentially deconstruct Japan's inefficient layers of suppliers, distributors, wholesalers, and retailers, and loosen keiretsu ties as Japanese manufacturers build supply chain management and production networks with companies all over the world, building on the already strong bricks-and-mortar networks of the past few decades.
But it's even more telling to show how specific companies in the three clusters of Japanese firms have exploited their traditional sources of advantage to develop new business models and new markets. Exhibit 1, while admittedly impressionistic, shows that many Japanese companies, old as well as new, have accomplished many of the same things for which Amazon.com has been celebrated.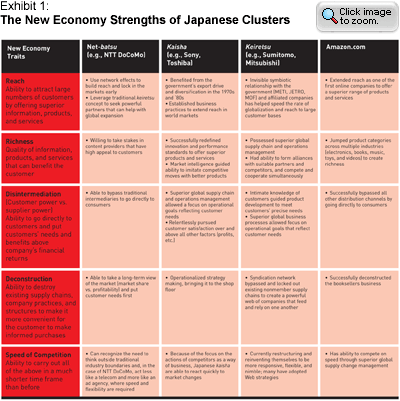 Indeed, the decade's worth of attention to Japan's ailments has obscured the fact that Japanese firms' deliberate wait-and-see approach during the Internet boom years is gradually paying off. Companies like Toyota, Canon, and Nissan have already taken hard measures to turn around, with much success. Similarly, many of the net-batsu — companies like Rohm, NTT DoCoMo, and Nidec — also weathered the downturn, and showed significant share price gains over the last decade. On closer examination, we can see that many of these companies used traditional Japanese skill sets to leapfrog into the New Economy.
Consider NTT DoCoMo, a relative newcomer in the global marketplace, which has been able to apply several of the traditional Japanese advantages (including, importantly, a strength in alliances) to help it expand globally in a remarkably brief time.
Although the consumer electronics industry had underpinned Japan's economy for decades, it missed out on some of the biggest consumer electronics trends of the 1990s, notably the rise of the Internet. The development of portable Web-linked devices provided a rare second chance to get back into the game. The number of Japanese accessing the Internet through car and mobile telephones reached 12.7 million by the end of June 2000, an increase of 250 percent over the previous six months, while the number of dialup Internet users on fixed lines rose by only 25 percent during the same period. METI was determined that Japan's consumer electronics industry would not miss out on the development of this next generation of mobile communications.
NTT DoCoMo, 62 percent owned by Nippon Telephone & Telegraph, initiated an aggressive attempt to achieve dominance in the burgeoning field. By leveraging its strengths — knowing its customers well, forming extensive alliances, developing high-quality products and services, and then delivering them at competitive prices — it was quicker than any other wireless telecommunications provider in building richness in its content and extending its reach to its target markets. It launched its i-mode mobile multimedia service in February 1999, and by October 2003, had landed 40 million subscribers to its 2G and 3G mobile Internet service in Japan — more than 50 percent of the market for consumers subscribing to mobile telephone services in Japan.
The company has been helped by Japan's strong tradition of customer-focused manufacturing. Mobile phones are fast becoming a mass-market commodity, in much the same way radios, televisions, and VCRs did in generations past. Staying ahead in an industry in which prices have dropped drastically requires manufacturers to keep abreast of customer trends, and drive product life cycles to match — or even advance — those trends. Close ties with key Japanese electronics manufacturers — which in turn have strong commercial links with component suppliers in the region — have allowed NTT DoCoMo to source large quantities of scarce, important components, such as miniature color liquid-crystal displays (LCDs). This rapid sourcing ability will become increasingly important as handset life cycles continue to fall. (See "A Master Model for Mobile Multimedia.")