Exhibit 1 plots the three key metrics for each company. The horizontal axis shows the throughput time as measured by Little's Law. The vertical axis shows revenue per product pound on a logarithmic scale so that the high values for Intel and Apple can be displayed with the lower values for Ispat Inland and Best Buy. (Increments on a logarithmic scale designate order-of-magnitude increases rather than linear increases.) The size of the circle indicates the sales-to-net-fixed-asset ratios of each company.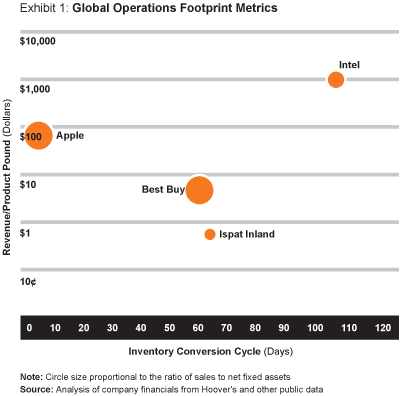 Intel's small bubble size and upper-right-corner location highlight the strengths and weaknesses of its competitive position. The need to continually invest billions in new production technologies produces a low sales-to-asset ratio. Asset intensity — fueled by annual capital investment averaging $5.5 billion over the last three years — makes Intel less sensitive to competition from less developed, low-wage countries, and its high RPP allows it to serve a global customer base from anywhere without undue concern over transportation costs. The soft underbelly of Intel's strategy could be its long throughput time, which, as measured by Little's Law, has grown by nearly 50 percent in the last five years. Intel may need to locate closer to its major customers, which increasingly are in Asia. Alternatively, an Asian competitor could possibly displace Intel, not by leveraging lower wage rates but by being closer to the factories assembling electronic gear using microprocessors.
The small bubble size for Ispat Inland reflects changes in the steel industry over the past two decades. Steel production in the United States, measured in tonnage, grew by 36 percent between 1982 and 2002, even as industry employment dropped by nearly 75 percent over the same period, from 289,000 steelworkers to 74,000. Many steel companies went bankrupt because of the high cost of pensions and health care for the displaced or retired steelworkers. New owners acquired the steel-producing assets after gaining concessions from unionized steelworkers to reduce unfunded pension liabilities. Despite the labor cost challenges, the low RPP has kept some domestic production in the U.S. alive.
The low RPP of Best Buy supports the argument that retailing is an inherently local business. But that does not mean that Best Buy or other bricks-and-mortar retailers are safe. Amazon operates on a global basis and has an inventory conversion cycle of about 27 days, less than half that of Best Buy. Amazon holds inventory centrally and ships directly to consumers, thereby shortening the throughput time and simultaneously avoiding investment in retail storefronts. Amazon generates more than $24 in sales for each $1 of net fixed assets, compared with Best Buy's 11-to-1 sales-to-asset ratio.
Apple's global footprint reflects its priority to serve customers across the globe with rapid delivery. The company manufactures in Sacramento, Calif.; Cork, Ireland; and Singapore to achieve its five-day throughput. Despite relatively low capital intensity and highly shippable products, Apple chooses to prioritize market responsiveness over low-wage-rate country production.
Offshoring Reconsidered
Returning to our original query, it is now easier to understand why foreign manufacturers build plants in the United States. Japanese automakers, and even the Chinese appliance manufacturer Haier, can justify investment in the high-wage United States because of the relatively high cost of transporting autos and refrigerators to the U.S. market from Asia. They also want a shorter pipeline so they can be more responsive to market needs. Of course, both tend to apply more capital-intensive production technologies in developed countries than they would in a lower-wage country. Many industries and companies will also find that the optimal trade-off of transportation, capital intensity, and market responsiveness will lead them to continue investing in developed markets like the United States to optimally serve those markets.