In the era of mass marketing, the primary source of value for most companies was their products or brands; today, value is moving to the customer interface.

Marketing's focus, formerly on advertising-based brand development, has shifted to "below the line" operations capable of driving short-term, measurable financial returns.

Companies' sales efforts, once characterized as "one size fits all," are transforming to meet customer demands for unique solutions and value-added services.
Marketers have been forced to evolve from a world where, as Henry Ford once put it, "You can have it in any color so long as it is black" to one in which customers routinely demand, "I want it in this color, in this configuration, at this price, and if you can't deliver tomorrow, I'll source it over the Web from any dealer who can within a 600-mile radius."
Marketing's Importance
These trends are widely perceived to have wreaked havoc on the marketing organization. As companies have met their growth challenges by consolidating and globalizing, power appears to have shifted away from marketing and toward more regimented (and readily understood) functions. "In financial institutions, marketing usually takes a back seat to hard and deep disciplines such as finance or operations," ABA Bank Marketing has noted. "It's not uncommon to find the head of marketing reporting to the CFO or COO."
But our survey found the conventional wisdom about marketing's decline to be inaccurate. Indeed, our first finding was that marketing is increasingly important to corporate success. Across all industries, nearly four out of five respondents said that marketing was becoming far more important to their organization. The responses ranged from the 86 percent of health-care industry respondents who said that marketing had become "more important" or "significantly more important" in their company during the past five years to the 59 percent of auto executives who said the same.
It is noteworthy that the results were essentially the same for marketers and those in other departments. Overall, 77 percent of marketers and 78 percent of nonmarketers said that marketing had become "more" or "significantly more" important. (See Exhibit 1.)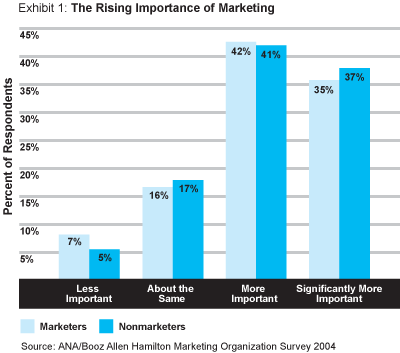 The majority of survey respondents cited the ferocity of competition in their industry as one of the top two factors underlying the growth in marketing's importance. Yet across the nine industries we studied, a surprisingly high percentage of correspondents believe the function's most important contributions lie in zones not typically associated with marketing, such as driving innovation and encouraging cross-functional collaboration. For example, 79 percent of the study's consumer packaged goods (CPG) respondents felt that "marketing is best positioned to orchestrate across corporate functions to create and promote new products and ideas." Executives in the retail, financial services, professional services, and technology industries also cited marketing's ability to help create new products and services as being among its highest-value contributions.
It used to be that a company could rise to the top of its industry and deliver superior shareholder returns by doing one thing well. Not anymore. Marketing's perceived ability to orchestrate multifunctional collaboration and its role in driving primary demand in markets that suffer from low rates of consumption indicate that marketing is becoming increasingly important in industries where it has traditionally taken a back seat.
In the financial-services sector, to cite a prominent example, marketing has taken on heightened importance as institutions conclude that their options to grow through acquisitions and product differentiation are diminishing. "The financial-services business is commoditizing; if you think this is still a relationship business, you are kidding yourself," an executive vice president at one such company told us. The chief marketing officer of a bank said his organization's work was ever more focused on helping the company "break down the silos across our distinct lines of businesses, ensure an integrated, consistent customer experience, and help drive innovation." Reflecting these comments, 33 percent of financial-services industry respondents cited the need for organic growth as a reason for marketing's increased importance.