Marketing's potential appears underscored by the organizational attention it is receiving. More than 70 percent of respondents to our survey indicated that the marketing function in their company is currently being reorganized, or has been reorganized during the last three years. Organizational restructuring was least likely in the CPG and health industries, but even in these sectors, nearly 60 percent of those surveyed indicated they had undergone a recent marketing reorganization. Restructuring was most likely at telecommunications and technology companies -- at nearly 85 percent -- where competition is raging and new product innovation is quickly matched in the marketplace.
As reorganizations mount, the position of chief marketing officer is gaining currency. Forty-seven percent of Fortune 1000 companies now have a CMO, according to our analysis. Among the companies that have created or reinstituted such a position in the past three years are Visa International, Equifax, MetLife, Revlon, General Electric, Symantec, JP Morgan Chase, The Bank of New York, The Home Depot, Charles Schwab, McDonald's, Cigna, and Pitney Bowes. The title remains less familiar than other positions in the "C suite." For example, 98 percent of Fortune 1000 firms have a chief executive officer, 91 percent have a chief financial officer, and 83 percent have another once-unfamiliar position, the chief human resources officer.
Marketing's Shortfalls
As the CMO position is becoming more common, so are its perils. Chief marketing officer is deemed to be among the most hazardous positions in the modern firm, with CMO tenure averaging only 23 months -- less than half the tenure of CEOs in 18 industries surveyed, according to CMO Tenure: Slowing Down the Revolving Door, a report issued by the executive recruiting firm Spencer Stuart in August 2004. The food industry has the shortest average CMO tenure of any sector studied, a mere 12 months.
The failure of so many CMOs in the face of such high expectations and persistent reorganizations indicates a serious disparity between companies' needs and marketing's proffered solutions. In a more and more complex and rapidly changing environment, the function seems caught in a vicious cycle: new CMO, reorganization, failed expectations, new CMO … and so on.
To investigate the reasons for the apparent mismatch, we sought to calibrate marketers' own evaluation of their emphases and contributions against those of company leaders. According to the Conference Board's comprehensive annual survey CEO Challenge 2004: Top Ten Challenges, the top four chief executive priorities are:
Top-line growth (52 percent)

Speed, flexibility, adaptability to change (42 percent)

Customer loyalty and retention (41 percent)

Stimulating innovation (31 percent)
Marketers appear to be giving at least some of these priorities short shrift. By a wide margin, marketing's focus is heavily tactical, and disconnected from the CEO agenda. Fully 83 percent of respondents, for example, said marketing's current focus in their company is branding guidelines -- more than two-and-a-half times the number who said they were focused on driving innovation. (See Exhibit 2.)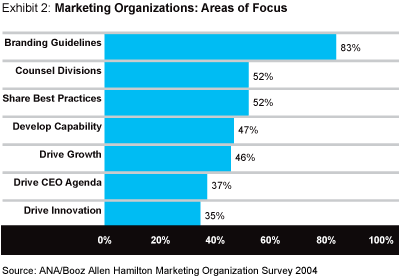 In fact, fewer than half of respondents indicated that the issues that keep CEOs awake at night are at the top of marketing's agenda. This disconnect is causing immense frustration over the role and performance of marketing.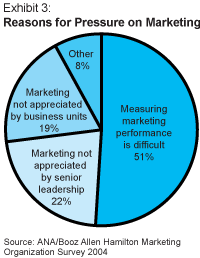 Perhaps the major reason marketing is not appreciated by senior leadership is its inability to justify its return on investment. Although everybody talks about "marketing ROI," limited progress seems to have been made on revamping marketing metrics. "There is no consistent definition of ROI," said the vice president of finance at a CPG company. "We are using 'rule of thumb' guidelines." (See Exhibit 3.)
We found that marketing organizations are still predominantly using "surrogate metrics" instead of more disciplined financial-returns measures to assess the value of their contribution to the enterprise. Marketing ROI is more complex than financial ROI, where both the "R" and the "I" are uniformly measured in dollars. In marketing, various quantitative factors (e.g., cost per incremental volume) and qualitative factors (e.g., awareness) are part of the equation -- over both the long and the short term. High-touch, relationship-based industries with differentiated products (such as financial services and automotive businesses) tend to use awareness- and image-related forms of measurement. Low-touch industries (food and retail), in which marketing creates differentiation among commodity products, rely more on market share, growth, and profit metrics.