Incumbents: Misperceiving the Threat
We have found no cases in which an incumbent responded to a new business format successfully without essentially adopting it. It's true that many incumbents survive for quite some time in the face of a format invasion; they prune product lines, retrench operations, and scale back investment (if only because the business is generating less cash than it previously did). But none prosper over the long run unless they adopt the new format. No economically sound alternative seems to exist. Why do incumbents so consistently fail to recognize this, and let the intruders take away their markets?
Two classic misperceptions lie behind this common development. First, incumbents often mistakenly ascribe the new format's cost advantage to better factor prices, such as lower wages and benefits for employees or lower prices paid to suppliers. That explanation, despite being attractively straightforward, misses the central point — that the new format uses fewer resources, rather than merely paying less for those it uses.
This misperception sets incumbents on a path of fruitless confrontation with unions and suppliers. They reason that if their competitors got better factor prices, it was because they themselves hadn't been "tough" enough. Automakers, supermarkets (under pressure from Wal-Mart), and traditional airlines provide ready examples of old-format players distracted by these confrontations.
Second, incumbents often confuse the intruders with "value" or "budget" companies. In their view, the "value" company is making a niche play, appealing to the most price-conscious customers in its market. A "value" make of automobile is smaller, with a less-powerful engine and fewer extra features than a mainstream car, and thus carries a lower price tag. Similarly, a "value" department store offers no-frills products and fewer services and amenities than a mainstream store in the same market, at a lower price point. But these "value" companies rely on the same traditional business format as their mainstream competitors: They all face the same menu of trade-offs between amenities and price. The "value" companies just make different choices from that menu — choices attuned to the price-conscious customers they've targeted. These traditional-format "value" competitors don't threaten the market's mainstream traditional companies.
In contrast, new-format companies create a different and better menu for themselves by operating in strikingly new ways that slice out slabs of cost. (See Exhibit 2.) The new format can deliver either a high or low level of features and amenities less expensively than the old format. Format invaders thus represent a long-term threat to the mainstream traditional companies in the sector, unlike other companies that merely pitch their offerings at the "value" end of the market.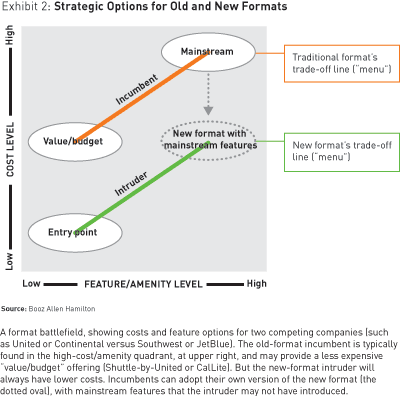 This misperception fatally weakens the incumbents' efforts to counter the new-format intruders at each stage in the cycle. Early on, seeing the intruders as simple "value" companies, the incumbents may try competing head-to-head against them with a "value" offering of their own, providing lower features and amenities at a lower price, but still based on the old format. Examples include General Motors' Vega, an early (1970s) response to low-end import cars, and the lower-priced "value" subsidiaries of mainstream airlines.
Of course, the incumbents' "value" offerings can't truly meet the intruders' pricing head-to-head: Their cost disadvantage forces them to seek some premium above the intruders' price. But that misses the central point of the intruders' entry tactics — that price-sensitive customers respond to prices at the market bottom, not near it. Near-bottom pricing causes the incumbents to give up margin without commanding much volume. So the incumbents' "value" offerings quickly fail.
Later, the same misperception leads incumbents to believe they can retreat up-market safely, since they believe the new-format intruders can't follow. But in fact, the intruders have no such limitation — their new format can combine high features or amenities with low costs. Toyota's lean business format produces the top-of-the-line Lexus as well as the entry-level Corolla. Similarly, Target and Wal-Mart use the same extraordinarily efficient business format; Target has merely chosen to focus it on customers and merchandise that are farther upscale than Wal-Mart's.