4. Successful incumbents make the new format their core business, not a side offering. Assuming that a competitor's new format has already proved itself in the marketplace, execution is needed. Launching a side experiment signals that management sees the new format as a niche offering, with no bridge to changing the core business. It's easy for an organization to get excited at the outset about an experiment and invest a lot of energy in it ("Finally, we are actually doing something about the new format threat"), but it's ultimately ineffectual.
The story of the Home Depot format invasion of the 1980s, and the response by Lowe's Companies Inc. in the 1990s, shows how an incumbent company can come successfully to terms with a new format. Traditionally, Lowe's sold construction materials, mainly to professional homebuilders, through an extensive chain of small full-service outlets. In 1982, Home Depot introduced "big box" retailing in a "home improvement center" format: a much larger store (90,000 square feet versus 15,000 for a Lowe's outlet) with dramatically lower unit operating costs, due mainly to the labor savings from scale and self-service. The new format spread rapidly and profitably, displacing traditional-format competitors — largely hardware and building supply stores.
Throughout the 1980s, Lowe's struggled to respond, trying to blend its traditional format with the new home improvement center. The company built larger stores (25,000 square feet) and modified its offerings and layout to accommodate both professionals and consumers. It didn't work. By 1988, Lowe's had fallen behind Home Depot in size, profitability, and shareholder returns. (See Exhibit 1, above.)
At that point, almost a full decade after the birth of Home Depot's format, Lowe's finally recognized the new format's power. In 1989, the company built an experimental home improvement center. In 1992, management committed to the format and started converting to new stores rapidly. (See Exhibit 3.) Since then, the profitability, growth, and shareholder returns of Lowe's have exceeded those of Home Depot.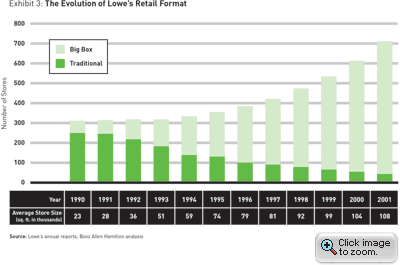 Strategy for Survival
Format invasions seem almost certain to continue, probably with increasing frequency, as ideas for new formats flow ever more easily across industry and regional boundaries. The lessons for established companies in those markets seem clear.
• Scan your markets regularly for format invaders. Whenever a competitor — especially a new entrant — starts gaining market share by offering familiar products at below-market prices, suspect the possibility of a format invasion. If the new format continues growing, what will you do? Look askance at assumptions that the new format will apply only to some "value" niche. In particular, question any plans or actions that would forfeit down-market segments.
• Understand the competitor's new format thoroughly, including the full potential of its cost and quality advantages. Recognize that its "logic" will likely be unfamiliar, so aim to see it on its own terms. In particular, resist the temptation to assume that the intruder's success depends simply on lower factor prices, selling below costs, or other measures you could never emulate (even if these elements are truly in the picture somewhere). Then, translate that understanding into a forecast of the new format's likely success over the next five to 10 years. Caution: Incumbents often unconsciously water down these forecasts on grounds of "realism." With a new format, forecasting extraordinary growth is realism.
• Approach the new format as an opportunity. At this point, you're likely well ahead of most incumbents facing a successful new-format competitor. So you now have a significant opportunity to grow and profit at your traditional competitors' expense. In a mature market, the new format may well be the best opportunity available to your company. Make an assessment of its potential; then (if warranted) focus the company on seizing it.