---
Pay without Performance: The Unfulfilled Promise of Executive Compensation
By Lucian Bebchuk and Jesse Fried
Harvard University Press, 2004
294 pages, $24.95

---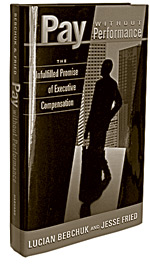 Pay without Performance is a dense but highly readable guide to the morass that is executive compensation in the United States, together with suggestions on how corporate America can extricate itself from the swamp.
Lucian Bebchuk is professor of law, economics, and finance and is director of the program on corporate governance at Harvard Law School; Jesse Fried is professor of law at the University of California at Berkeley. They begin by outlining the conventional method of setting executive compensation — boards of directors bargain with executives at arm's length — and the prevailing view that market forces (the value of executives in an era of low supply and high demand) determine the levels of compensation reached. They contrast this view with their own contention: that executives, particularly CEOs, tend to use their managerial power to extract excessive compensation from corporations. In 16 chapters, Professors Bebchuk and Fried meticulously strip away the camouflage and deception that conceal the myriad ways in which executives are paid.
Although one might dispute some individual issues in the authors' argument, the overall picture is devastating. "Market-based compensation" seems to be merely a convenient fiction that CEOs and boards of directors use to justify the status quo.
On compensation, Pay without Performance recommends changes to reduce windfalls in equity-based pay plans: filtering out industrywide and marketwide gains; improving the links between bonus plans and performance; avoiding "soft landings" in the event of failure; and quantifying and making transparent the magnitude of pay that is unrelated to performance. Shareholders, they argue, should have a much more direct say in compensation matters. Further, the corrupting influence of the "free money" that is share options should be eliminated through a requirement to expense such options. On corporate governance, the authors believe much can be done to revitalize corporate elections, making the selection and appointment of directors more dependent on shareholders. The vigorous objections of corporate interest groups to even the mild reforms currently being proposed by the Securities and Exchange Commission suggest that the road ahead will be difficult. Professors Bebchuk and Fried have written a book that provides a compelling case for making the journey.

---
The Greed Merchants: How Investment Banks Played the Free-Market Game
By Philip Augar
Portfolio, 2005
258 pages, $24.95
---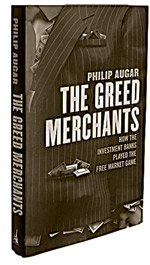 Are investment bankers responsible guardians of free-market capitalism? Or are they a force of evil — a greedy conspiracy, with a long, checkered history of mouthing the virtues of the marketplace while doing their best to subvert its functions?
According to industry insider Philip Augar, the former head of Schroder Securities in the United Kingdom and now a full-time writer, the answer to both these questions is "Yes!" In 12 chapters, he reviews the history of the industry, chronicles the litany of abuses with which it has been associated, tries to identify how investment bankers really make their money, and suggests how the conflicts of interest endemic to the industry might be ameliorated.
Mr. Augar admits that trying to find exactly where investment bankers make their money is like chasing a bar of soap in a bathtub. But he points out some clues: Investment bankers are continually trying to de-emphasize commodity-type products such as equities, fixed-income securities, and common derivatives in favor of high-value-added offerings such as complex derivatives, sophisticated financings, and merger and acquisition work.
At the core of investment bankers' ability to make themselves fabulous amounts of money is their immersion in the flow of markets, where their special access to information and their ability to "connect the dots" creates what Mr. Augar calls "The Edge" — a unique blend of knowledge and integration that also creates a formidable barrier to entry for would-be competitors. The other side of this spinning coin, however, is multiple conflicts of interest, including the glaring disconnect between dispassionate investment analysis and the bidding for lucrative initial public offerings, and the daily clash between the banks' proprietary trading and the need to execute client orders. The author suggests that without the complete separation of advice from execution — both in securities trading and securities distribution in capital markets — these conflicts will continue. He also sees further trouble ahead, perhaps triggered by the complexity of poorly understood derivatives.

Reprint No. 05311
---
David K. Hurst
(
[email protected]
) is a contributing editor of
strategy+business
. His writing has also appeared in the
Harvard Business Review
, the
Financial Times
, and other leading business publications. Mr. Hurst is the author of
Learning from the Links: Mastering Management Using Lessons from Golf
(Free Press, 2002).