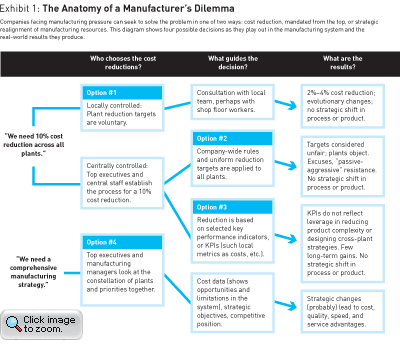 Building Awareness
Surprisingly few major multinational or large-scale manufacturing companies have been able to break free of this trap. Household GmbH was one of them. The Middle East episode prodded its senior executives into a multiyear, systematic endeavor to rethink the company's operations and to glean and use better information about its manufacturing costs. Today, rather than a few state-of-the-art plants, Household operates a variety of plants that are designed for flexibility and can be moved or revamped as customer needs and the competitive climate change.
The cure for manufacturing myopia is 20/20 vision — that is, the cultivation of awareness about manufacturing costs and means. Companies can sharpen their own ability, as Household did, to see their operations more clearly and redesign them more flexibly. For companies that achieve this kind of manufacturing prowess, the manufacturing function is no longer seen primarily as a cost center, ripe for cutbacks or outsourcing. Instead, the ability to produce higher-quality goods at lower prices in a more flexible manner is a key component of their long-term competitive strategy and a central, dependable part of their identity.
This involves two major commitments: first, dedication of resources to building awareness. Leaders can peel back the layers of their own manufacturing operations and those of their competitors so that processes, advantages, and disadvantages can be viewed more clearly. This means becoming more aware of a company's unique technological capabilities, the unfulfilled potentials of each plant (for reaching the appropriate markets), and the specific drivers responsible for their costs. Many manufacturers look at cost data primarily as justification and leverage for continually trimming expenses, rather than as a source of insights about scale, capital spending, labor deployment, technology, logistics, and supply chain efficiency — all critical factors in measuring how well a company's manufacturing processes stack up against the competition. Toyota's much-admired manufacturing competence stems, in large part, from the company's insistence on building fine-grained awareness of every facet of production, at all levels of the company.
The second commitment is patience, demonstrated by investing the time and resources to address manufacturing productivity as a long-term, organization-wide strategic imperative and not as an isolated operational or functional issue. Plant managers are often expected to show the same fast pace of change as marketing, finance, and procurement, where six- to 18-month transformations are feasible. But those metrics don't apply to manufacturing efforts, where improving results requires a very different set of time frames. A new manufacturing program frequently involves motivating, as well as hiring or moving, thousands of employees; new construction; new technology deployment; and perhaps the closing of a plant or two, which takes years rather than months. That time is well invested if it is used to develop an effective, flexible manufacturing capability, unique to the business and its customers, as a platform for more rapid change once it is established.
How does one go about building this kind of awareness? At most companies, there are four dimensions of manufacturing in which highly visible data and analysis, projected farther into the future, can yield both short-term gains and long-term advantage: technological distinctiveness, network sophistication, in-plant transformation, and labor modernization.
Technological Distinctiveness
One of the first places to eliminate myopia is in the design, engineering, or purchasing of manufacturing technology. (We call this the "inherent" dimension of manufacturing, because it involves the physical nature of the products and the processes that create them.) There is a staggering level of underinvestment in business process innovation as compared with product innovation. In 2004, according to Booz Allen Hamilton analysis, only 10.2 percent of the R&D budgets at the top 500 industrial companies was set aside for process innovation, down from 15 percent in 1980. Because they've neglected this essential activity, manufacturers tend to rely on machine builders and other vendors to fill in the gap. In most cases, this is counterproductive. Equipment manufacturers do not generally have a strong track record for innovation, particularly for the kinds of creative and customized solutions that would enable individual companies to overcome their manufacturing shortcomings. And even when equipment providers are innovators, their technology is unlikely to give manufacturers a competitive edge, because it generally can be freely purchased by any of their rivals.