In a brownfield site, labor modernization often represents a daunting challenge. Managers may believe that they can employ greenfield policies (those applicable to a new factory) in a brownfield plant, but this assumption is flawed. The brownfield work force is generally older; they may have already lived through shutdowns, layoffs, and closures. Moreover, unions don't usually forget the bitter relations they had with the prior plant management and are less willing to forge alliances with the new factory team. In some locations, sophisticated lean production concepts, implemented in a one-size-fits-all pattern, have been viewed by the cynical, dispirited work force as micromanagement and paternalism.
For a brownfield renewal to succeed, the surrounding community has to be fundamentally remotivated and more closely tied to the enterprise through new compensation systems and governance roles. The German agricultural equipment maker Claas demonstrated the value that can be unlocked if the right formula is found. In the midst of substantial growth and as part of a constant drive to improve flexibility, Claas spun off a large part of the factory through a management buyout and made the newly independent plant a primary supplier. The newly formed business unit was able to secure quality standards and to better balance its capacity, signing up additional customers besides Claas. Meanwhile, employee motivation improved in the factory as managers used the space they had reclaimed to fundamentally reengineer activities, aiming at a one-piece-flow philosophy. The plant's positive development defied the long slump in commodity machining and metalworking factories in the region.
Manifesto for Manufacturers
A company seeking to overcome its manufacturing myopia may find the task daunting at first, but easier over time. The goal is not to "fix" manufacturing, but to build the capacity for long-term and medium-term manufacturing management among engineers, suppliers, and staff (including unionized staff), and to redesign the technology to take advantage of these capabilities and augment them.
There are no universal rules for doing this because each manufacturer has a unique combination of in-house capabilities, labor histories, supply chain relationships, market demands, and technological innovations. A holistic manufacturing strategy emerges only from an analysis that assesses the critical operational data buried in the four dimensions of manufacturing design: inherent, structural, systemic, and realized. (See Exhibit 2.)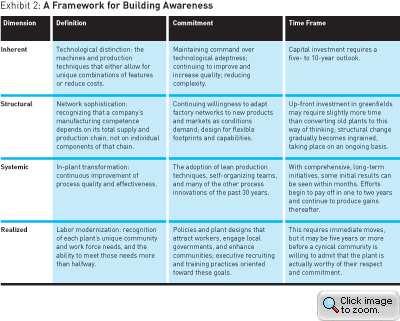 Consider the recent case of a European auto manufacturer. The company was desperate for a way to cut costs per car, which had risen to almost 30 percent above those of its nearest competitor. The carmaker's initial inclination was to close plants and implement flexible manufacturing lines that could produce multiple models in remaining factories. Pressure from unhappy unions convinced the company to think twice about this plan.
Analysis of the automaker's cost drivers found that the gains from minimizing inherent costs (by increasing plant flexibility) and structural-level costs (by eliminating plants) would do little to close the gap between its manufacturing costs and those of its closest competitor. In fact, the only way that the company could catch up to its rival was by systemic improvements (adopting lean processes), a category that accounted for 65 percent of the cost gap. The automaker would never have learned this had it relied only on traditional analyses and not exposed the interconnections among all of the critical components of its manufacturing operations. To address its shortcomings, the company appointed experienced managers from outside the region to critical posts in its European plants, retooled its production system, and began to implement those lean manufacturing processes.
By separating manufacturing operations into their four dimensions and exploring the way they are interrelated, management can accurately measure manufacturing costs and perfect "what if?"–style decision making. This is not possible with a conventional cost accounting approach. Even the most advanced cost accounting systems are usually designed for only two tasks: calculating product costs to provide marketing with a basis for pricing, and tracking actual and forecasted results in individual cost centers.