We chose the term megacommunity to reflect such a sphere's character as a gathering place, not of individual people, but of organizations. We see megacommunities emerging in many locations, reflecting the evolution of long-standing communitarian and democratic traditions, and also the changing character of today's business and political environments. Examples of megacommunities range from planet-wide systems, such as the community of corporations, governments, and NGOs concerned with rain forest management and conservation, to local enterprise-related civic/business environments, such as the New York City neighborhood affected by the Harlem Small Business Initiative. (See Exhibit 1.)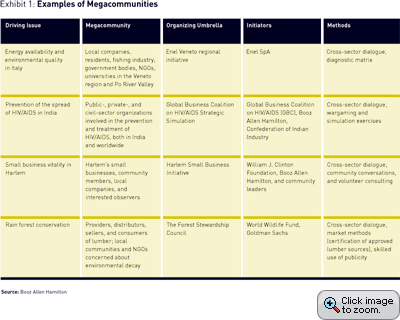 Whatever the scale and scope, all megacommunities have two things in common. The first is a connection to globalization. As technology has allowed the instantaneous transfer of money, images, ideas, and people around the world, "local" communities are neither constrained nor protected by the age-old boundaries of geography and demography. A vendor in a remote village in Costa Rica or India is bound, through communication, trade, and an increasing number of common interests, with an urban resident of Paris or Hong Kong.
Though globalization is often thought of as waxing and waning through history (with the world sometimes growing more closely linked, and sometimes splintering apart), the current wave of globalization involves a permanent structural change in many of the institutions of the world. Nations and companies alike have undergone an irreversible shift toward what management theorist Charles Hampden-Turner calls "universalism." They move away from reliance on connections and loyalty (typical of societies with selective law enforcement) and toward such principles as merit and universal law.
This kind of shift makes even formerly closed societies more open to outside influence, and thus more powerful. But it also makes them more vulnerable, particularly to the problem of economic "winners and losers," in which the benefits of globalization are not evenly spread. The megacommunity concept represents a movement toward sustainable globalization, in which contact with the outside world, instead of draining jobs and making a local system vulnerable, strengthens long-term quality of life, economic vitality, and community health. In other words, megacommunities provide leverage for retaining local identity while creating a viable middle class and competing on the global playing field. Or as former U.S. President Bill Clinton puts the problem: "After the Great Depression, we created an American middle class. How do you create a global middle class that's bigger and bigger?"
The second common feature of megacommunities is a recognition of the changing nature of effective leadership. In the past, a problem like managing regional land use would have fallen to a government body, such as a ministry or port authority. Now, much of the work will be done by leaders of a group of separate but interdependent organizations. Fortunately, the skills and techniques of megacommunity leadership appear to be transferable, whether the scope of action is a city neighborhood, a regional watershed, a continent, or the globe. One can imagine a truly comprehensive "leader's guide" to megacommunity engagement emerging from these kinds of initiatives.
Organizations that avoid megacommunity engagement do so increasingly at their peril, and at the peril of the communities they are trying to enter, influence, or help. Consider, for example, the case of a project in Brindisi, Italy, initiated by Enel SpA — a project that went astray when the company did not convene a megacommunity. Enel, Italy's leading utility provider, is a partially privatized company; the government of Italy owns about 31 percent of the stock. In the early 2000s, Enel attempted to diversify its sources of energy by joining forces with the U.K. company British Gas (BG Group, or BG) to build a terminal for regasifying liquefied natural gas in Brindisi, an economically depressed area on the heel of Italy's boot. The company expected the project to be greeted with popular support in Brindisi. It would have provided 1,000 jobs during its three years of planned construction and 250 permanent new jobs in the region. Enel and BG were very careful to fulfill all the legal requirements necessary for starting the project. But their legal outreach was far from sufficient to offset a long and unprofitable chain of events.