"Leaders have a choice," says Mr. Kelly. "They can choose either to maximize the immediate benefits to their own operation, or to optimize the benefits to the larger system as a whole. It turns out that even though maximization often feels more efficient, optimization serves them better."
A megacommunity does not become truly viable until leaders make it part of their personal agenda. Their passion and personal commitment are key factors. Thus, their experience base needs to prepare them to embrace, not just to accept, the challenge of working in a larger, more complex sphere of influence. For this reason, the most successful leaders of the future may be those with career paths through all three sectors, either migrating among business, government, and NGOs during their careers, or serving on boards of organizations in other sectors. Examples include Time-Warner CEO Richard Parsons (who worked in the Gerald Ford administration and chaired the Apollo Theater Foundation), New York City Mayor Michael Bloomberg (former board member of Johns Hopkins University and founder and former CEO of Bloomberg L.P.), and Renato Ruggiero (who served as Italy's minister of foreign affairs and World Trade Organization director-general, and is currently the chairman of Citigroup in Switzerland).
Megacommunities in Practice
At least four critical elements are universal to effective megacommunity leadership. They are not necessarily new; indeed, the literature on each of them is vast. The trick for a group of leaders creating a megacommunity is to build their capabilities in all four domains together.
1. Start with understanding. George Yong-Boon Yeo, the minister of foreign affairs of the government of Singapore, advises CEOs launching ventures in his region to "adopt the attitude of a student, and not be too quick to preach. If you think you are there to teach before you have learned, you will fail."
The same is true of all potential megacommunity leaders. Most know how to sense the needs of their own organizations, but the environment of sustainable globalization requires leaders to tune their antennae more broadly, picking up subtle signals from the world outside. "You have to begin that painful process of running your organization with many more constituencies than you've traditionally focused upon," says Robert Switz, CEO of ADC Telecommunications Inc.
Leaders engaged with a problem might begin by identifying the potential megacommunity with questions like these:
What problems are we dealing with? Why can't we solve them within our walls, and what other organizations are affected by the same issues?

What is the appropriate scale of this megacommunity? Have we involved enough of the necessary players and stakeholders to create a critical mass for dealing with the issues?

How do the entities interact? How do their interests and actions affect one another? How do others see my organization? How do their perceptions of my organization affect the way they operate?
Some organizations, as they begin any new initiative with potential megacommunity implications, deploy specific methods to engage the relevant organizations and actors. For example, Enel, mindful of its Brindisi experience, is turning to the Veneto region, along the Po River, where it plans to overhaul current power-generating plants to burn green coal. Members of the power company's strategic planning department, communications department, and a department responsible for institutional relationships are mapping the megacommunity with a matrix that shows the interrelationships of all key players, and that will help the company discover the region's areas of potential instability and opportunity, and anticipate the impact of its possible actions in Veneto. (See Exhibit 2.)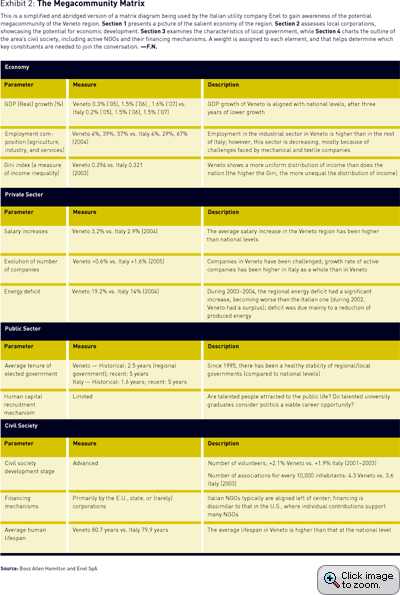 In exploring and analyzing a potential megacommunity, more formal sources of knowledge are not necessarily best. "Many U.S. companies have come to Latin America to expand their businesses," says Curt Struble, the U.S. ambassador to Peru. "They talk to a lawyer or to the formal authorities about the requirements, but they're making a mistake. The local authorities are not representing the local people; they simply make decisions for them." To develop reliable insight, he says, a leader must reach out to a wider cross-section of people.