Some of the best-known businesses around the world are co-ops. They include consumer-owned co-ops such as REI (the American purveyor of outdoor clothing and supplies), and Coop Nordic, a popular retail cooperative in Scandinavia. Employee-based co-ops exist in utilities, fisheries, and manufacturing, and include the Mondragon Corporacion Cooperativa, the largest corporation in Spain's Basque region and a model of innovative management and community development. There are a large number of banks in addition to Rabo (the Raiffeisen Bank, founded in Austria, is a mainstay of the economy in Central and Eastern Europe); agricultural co-ops such as Campina and Arla in Europe and the Dairy Farmers of America; health-care cooperatives that augment government- or employer-supported medical services; cooperatives owned by other companies, such as the French wholesaler E. Leclerc; financial cooperatives that support economic development in emerging countries; and food-buying cooperatives such as the Han groups of Japan, where nearly one in five households contains a co-op member.
In all these cases, members are either invited to buy or permitted to own shares in the company and thereafter have a small stake in its health and viability. The most common benefit is not dividends but an ongoing relationship that includes discounts or a voice in the direction of the enterprise, or, for employee shareholders, higher wages than might otherwise be considered feasible. This creates a more direct line of identification and benefit between owners, investors, and community members than is typical in a conventional company.
"In most countries, the law gives the shareholder the power of hiring and firing the people who run the company," says Arie de Geus, former head of Royal Dutch/Shell scenario planning and author of The Living Company (Harvard Business School Press, 1997). "These powers were fine in the past, as long as the shareholder had a common purpose with the people who ran the company. But nowadays, in nine out of 10 cases the primary shareholders are managers of other corporate entities, with purposes and goals of their own. By their nature, the goals and targets of the shareholders are short-term and money-based, whereas the goals and targets of the company, in today's world, have to be people-based and long-term."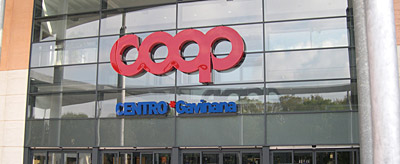 Detail of the entrance of a COOP store in Agliana, Italy, which hosts a weekly open house for people to raise grievances or ask questions about local issues.
Co-op Fever
The co-op model has been intricately woven into the culture of many countries, particularly in Europe, since the late 1800s. But co-op fever has recently intensified. Retail cooperatives like the COOP group, financial cooperatives like Rabobank, and an increasing number of agricultural, manufacturing, and service cooperatives have adapted to global competition and grown in the past few years.
Although co-ops tend to operate with little fanfare and are often unrecognized by the financial press, they account for 83 percent of Dutch agricultural production, 55 percent of agricultural production in Italy, more than 50 percent of banking services in France, and 21 percent of Spanish health care (according to the Commission of the European Communities). In continental Europe, these companies employ approximately 4.8 million people, 20 percent more than the total work force of large corporations in the same region. The largest cooperatives boast sales that rival those of any business. In 2004, sales figures included d9 billion ($11 billion) each for Coop and Coop Norden (consumer cooperatives in Switzerland and Scandinavia), more than d30 billion ($36 billion) each for Edeka and ITM Enterprises (retailer co-ops in Germany and France, respectively) and d40 billion ($48.5 billion) for the German retailer REWE Group.
Cooperatives are often assumed to be merely local affiliations of small and midsized companies, and therefore limited in scope and reach. But their deep roots in their countries of origin — as well as their surprising pervasiveness and stability — are exactly what puts cooperatives in a strong position in the new global economy. Through their highly participative governance models (involving both members and employees in making decisions), the cooperative system is particularly well suited to combining entrepreneurial and social objectives. Because it encourages internal checks and balances and general transparency, cooperative structure also makes it easier to avoid the ethical and legal lapses that have brought down the management of many investor-owned companies.