On Joichi Ito's Web site, there's a link called "Where is Joi." Click on it, and a NASA-generated image of the world pops up, with marks depicting his current location (in early June, this was "Joi's Lab," his private refuge near the Tokyo Institute of Technology) and his latest habitats. These have included, in recent months, hotel rooms in Toronto, Helsinki, and Shanghai; his sister's house in Los Angeles; the United Airlines flight between Tokyo and San Francisco (where Mr. Ito says he spends more time than in his own bed); and the offices of dozens of businesses, groups, and friends he visits regularly. The map is not always up to date, but no matter. These days Joi Ito's mind is most likely to be found online, in a game called World of Warcraft, no matter where on earth — or above it — his corporeal self might be.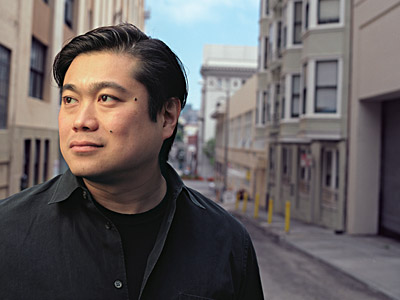 Photographs by Vern Evans
World of Warcraft is an immensely popular role-playing simulation, released by publisher Blizzard Entertainment (a division of Vivendi), based in Irvine, Calif. Set in an intricately rendered fantasy world, it pits two immense virtual societies of elves, trolls, wizards, dwarfs, and other creatures against one another in a series of quests, battles, and trading encounters. WoW (as it's known on the net) has about 6 million members worldwide (more than a million each in China and the U.S.). It amounts to a parallel universe, with clearly delineated political and economic roles, drawing thousands of people from across the globe at any moment to encounter superhuman foes and to form collective "guilds" via their personal computers. Spending countless hours in imaginary warfare may be simply a diversion for many people, but Mr. Ito insists that World of Warcraft is nothing less than an emerging model for organizational design. Given his track record as a venture capitalist and a catalyst for computer-based socially oriented innovation, powerful decision makers are paying attention.
"I'm not a typical venture capitalist," says Mr. Ito. "Just about everything I get involved in has a steep learning curve, has a lot of unknowns, and has risks. Just as some people are obsessed with money and are willing to do boring things day in and day out to be wealthy, I'm obsessed with always being in a state of wonder."
Mr. Ito is known in high-tech circles for his uncanny ability to identify the "next big thing" long before other people get to it, and for his quiet but pervasive influence on the development of the Internet. The first Internet server in Japan was housed in the bathroom of his Tokyo apartment, and he played a critical role in pioneering online chat, digital advertising, social network software, Weblogs (blogs), wikis (Web sites and documents, such as the well-known encyclopedia Wikipedia, that allow users to add and edit material), and other interactive media that continue to redefine the limits of communication and community-building. He was among the first to see the real possibilities in each of these technologies; his financial assistance and his advice are credited with helping transform them from a techie plaything for the cognoscenti into broad-based media with social, political, and business impact.
"Joi interprets in deep ways; he's a profoundly lateral thinker, and therefore he connects the dots better than most," says John Seely Brown, author of several eminent books on business innovation and the former director of Xerox PARC, the renowned Silicon Valley research center. "He is a hacker at heart, in the best sense of the word. Not only does he go deep, but he also tends to build, or he collects builders around him."