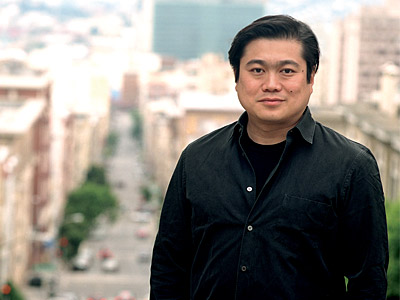 Platforms for Cross-Pollination
Mr. Ito has a home in Chiba, in the suburbs outside Tokyo, which he shares with his fiancée, her mother, three dogs, and a cat. But, not surprisingly, he is rarely there. Nor does he spend much time at the offices of the venture capital firm he founded, Neoteny. He prefers to receive visitors in one of Tokyo's many tearooms. As for "Joi's Lab," that's a nondescript office packed with powerful servers, 30-inch flat-screen monitors, an Internet telephone network, and a massive broadband connection. There is also a cot, for those nights when Mr. Ito stays up too late running raids and managing his guild in World of Warcraft.
Mr. Ito has been crossing boundaries since he was a toddler. Born in Kyoto in 1966, he moved to Canada and then Michigan by age 4, when his father became a research scientist with Energy Conversion Devices (now known as ECD Ovonics), a pioneer in battery technology, semiconductors, fuel cells, and photovoltaics. Mr. Ito's mother joined the company as a secretary, and so impressed founder and Chief Executive Stanford Ovshinsky that he promoted her through a series of management positions, eventually naming her president of ECD Japan.
An autodidactic inventor and labor activist, Mr. Ovshinsky had a powerful influence on the young Mr. Ito, inculcating him with a fascination for both technology and its humanitarian potential. "He was very active in the Detroit union scene," Mr. Ito recalls. "So I was always interested in social movements, and I was encouraged to think and read about that a lot." Mr. Ovshinsky says he regarded the young Joichi Ito almost as his own son, and found him receptive to complex concepts from a very early age — so much so that he put the 13-year-old to work with scientists who needed computer help. "He was not a child in the conventional sense," says Mr. Ovshinsky. "I could see that Joi was very intelligent, very alert, and very much into technology. No one knew he was a child when he got on the computer."
At the same time, Mr. Ito says he grew up feeling like an outsider: "Detroit suburbs in those days were a difficult place to be a Japanese kid." When he was 14, his parents divorced, and he and Mimi, who is two years his junior, returned to Japan with their mother. In Tokyo, he attended the Nishimachi International School and later the American School in Japan, where he became bicultural, as he calls it — comfortable, like many international school students, with "meshing up" different languages and cultures in his everyday life.
After high school, Mr. Ito returned to the United States and attended Tufts University, where he studied computer science and hated it. He dropped out and briefly went back to work for ECD, but Mr. Ovshinsky persuaded him to give college another try. He enrolled at the University of Chicago, with a major in physics, but soon dropped out again, and became a disc jockey in Chicago nightclubs. "I think if I had stuck it out to a Ph.D., I may have gotten to where I wanted to go," Mr. Ito says. "But I didn't feel like spending four years solving problems. I was still stuck with professors and assistant professors who were telling me to memorize formulas and not try to understand things intuitively. That just didn't turn me on."
After Chicago, Mr. Ito again worked with his mother, who was then acquiring media properties in the U.S. for NHK, the Japanese public broadcasting network. He lugged camera equipment on a number of television and film sets, including The Indian Runner, a movie directed by Sean Penn, and then he began working again for nightclubs, organizing events for them in Los Angeles and Tokyo.