At the head office, the two assembled Escom's best and brightest managers and strategic thinkers into a senior management council they called the "Top 30." A few outsiders were also invited, including Reuel J. Khoza, a management consultant recognized for his entrepreneurial acumen and commitment to social change. (In 1997, he would become Eskom's first black chairman.) Escom's leaders defined their most pressing task as fixing the fiscal mess and turning Escom into one of the world's top utilities. "John and I knew our performance had to be first class, or the government would take over," remembers Dr. McRae. "I had seen all over Africa how disastrous such political interference could be. We had to keep the government out of the engine room."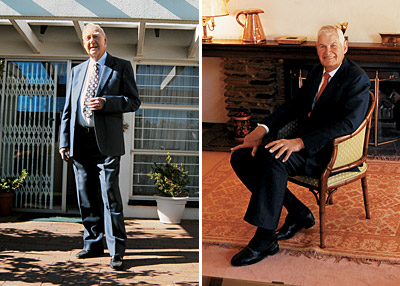 Left: Dr. Ian McRae, Eskom chief executive from 1985 to 1994. Right: Dr. John B. Maree, Eskom chairman from 1985 to 1997.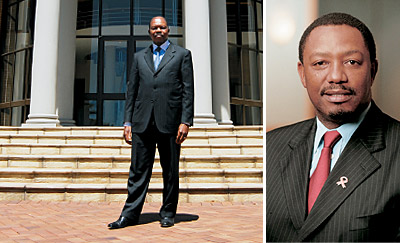 Left: Reuel J. Khoza, Eskom chairman from 1997 to 2005. Right: Thulani S. Gcabashe, Eskom chief executive since 2000.
Photographs by Jeffrey Barbee
Electricity for All
Downsizing was a critical step — and a move unheard of at Escom. Over the years, Escom had developed a reputation as an undemanding workplace. People joked that Escom stood for "easy, slow, comfortable." Dr. Maree pushed through instant work-force reductions from 66,000 to 60,000. By 1995 the head count was 39,000. (Today it's just under 30,000.) A name change from Escom to Eskom symbolically cemented the shift and distanced the company from its former identity as the government's supply commission.
While Dr. Maree drove the company to higher performance, Dr. McRae started to champion the vision of "electricity for all" — a response to the change he believed was inevitable. "South Africa was facing political transition, either through armed struggle or political negotiation," he wrote in his memoir, The Test of Leadership (EE Publishers, 2006). "When (not if) the ANC came into power, Eskom needed to be performing to the satisfaction of everyone in our country and that included making electricity available to all, not just one third of the population."
Dr. McRae proposed that Eskom begin offering electricity directly to households in the townships. Other executives agreed, but saw his plan as too risky, politically and financially. They weren't convinced blacks really wanted electricity; the few who could afford it complained of poor service and exorbitant bills. Furthermore, there was no commercial logic for growing a customer base of poor households, especially because at the time it was still illegal for Eskom to do so.
"To me the threat of not getting people electricity was greater," recalls Dr. McRae. "In these urban townships, there was no commercial or industrial infrastructure. What really worried me wasn't the lack of electricity; it was poverty."
Before pressing for further support within the company, he decided to see for himself if there was market demand. At great personal risk, he went to townships, where few whites had ever ventured, to ask residents directly whether they wanted electricity, and if they would pay for Eskom's service. With the help of the then-banned ANC, he met at night with people in churches and in their homes. On one visit to Soweto, Dr. McRae learned why the bills were so high: Meters were locked in cubicles on the sidewalks and were not read regularly. "When I went to those meetings, I got a clear signal that they did want electricity if the price was reasonable and they could get decent service," he says.
To buttress his argument, he pointed to the favelas of Rio de Janeiro. In these squatter cities, which are similar to South Africa's shantytowns, the residents were eager to buy electricity when delivery was reliable. Dr. McRae won the support of Eskom's board, and in 1989, he launched a drive to bring affordable, safe electricity to the townships.