Confronting the Future
Despite its many accomplishments, Eskom still faces significant challenges. Several major power outages in the Western Cape and local rolling blackouts and tension over rising electricity prices hit Eskom all at once in early 2006. Consumers grew angry, and Eskom became a campaign issue during the local government elections in March. To the country's leading business newspaper, Business Day, the year 2006 was Eskom's "horror year. In 12 short months, the electric utility that could do no wrong suddenly became a problem child."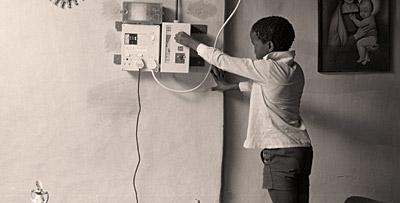 Photograph by Guy Stubbs
Eskom has addressed the problems. The national rolling blackouts that media predicted never materialized, and the Koeberg nuclear power plant, a primary supplier for the Western Cape, is now back online. Eskom has negotiated a multiyear price agreement with the regulatory agency that keeps electricity prices in line with inflation. In July 2006, the government announced a long-range energy plan for the country, which includes a five-year, R97 billion ($12.2 billion) program — the largest in 20 years — to expand and upgrade Eskom's capacity. Two-thirds of the money will go to generation, including new coal technology, hydro, and gas options; the rest will go to distribution, transmission, new business, and renewable energy. Eskom is working with Plug Power, an American fuel cell manufacturer, and IST Holdings, a South African power industry equipment distributor and longtime Eskom supplier, on a pilot project to make fuel cells affordable. "I had a guy at one American utility tell me that unless I had 100 years of proven field experience, he didn't want to talk to me. A utility needs to be conservative, but Eskom pushes for innovation more than most," says Mark Sperry, chief marketing officer of Plug Power.
A plaque near the entrance to Eskom's headquarters marks the place where a time capsule was buried to mark the company's 75th anniversary in 1998. The capsule will be opened in 2023, Eskom's centennial year. "May the contents highlighting past achievements be a source of inspiration to those achievers of the future," the plaque says. Most of Eskom's current leaders, black and white, were there on the day that capsule was buried, and like most South Africans, they have lived through the transformation of the country and the company.
"I was born in South Africa in 1959, so I'm a product of apartheid. I was designed a racist," says Dr. Lennon. "It is one of those things that South Africans who were born in the late '50s, who went through the public education system, and who are honest with themselves, spend a lot of time thinking about and regretting. But my time at Eskom, and in South Africa, during this transition has been an incredible life experience. What is so exciting is that, as an individual, you can do a lot to create positive change."
Because the lead time for building new power stations is 20 to 25 years, Eskom will always face difficulties in anticipating power capacity needs. And politics is always a complicating factor. No matter how successful Eskom is at keeping the government out of the engine room, it still must answer to those in charge — for good and ill. Debates over pricing and privatization are never settled.
In that light, Eskom's biggest asset is arguably the resilience its leaders, white and black, have cultivated throughout the company since the 1980s. That resilience, in turn, has allowed it to stay in front of public-sector trends and needs, a critical capability in a government-owned power utility. "The advantage of being ahead of the game, says Mr. Gcabashe, "is not that you can dictate the terms of legislation, but you can influence the thinking around issues based on the experience you already have."