Yet we never seem to learn. Ms. Hughes-Hallett notes that, on September 12, 2001, a group of people were photographed at the ruins of the World Trade Center under the banner "We Need Heroes Now." Indeed, modern America lacks swashbuckling supermen capable of making things right with their mighty swords. Instead, in both public and private sectors, we have celebrity leaders: essentially, heroes without the beef. In the corporate world over the last decade, former CEOs Dennis Kozlowski, Ken Lay, Phil Condit, Al Dunlap, and Jack Welch each had his day as the next Great Man of business. For various reasons, all those would-be supermen turned out to have had feet of clay. Perhaps now we are ready to accept a truth that playwright Bertolt Brecht once proclaimed in a Europe gone mad with dictatorship: It is an unhappy land that needs to search for heroes.
Granted, it takes a bit of imagination to see the connection between the historical heroes Ms. Hughes-Hallett portrays and the celebrity CEOs who are of interest to readers of business books, but that mind-stretch is well worth the effort. It is instructive to learn that Garibaldi practiced Jeff Skilling–like sleight of hand, and that he tried to compensate for his lack of managerial skill with displays of bravura comparable to those of such famous entrepreneurs as Billy Durant, Howard Hughes, and Donald Trump. In exploring the historical details, we learn why such practices didn't work for Garibaldi then and, by extension, why they don't work in the business arena now. And by considering Mr. Alter's and Ms. Hughes-Hallett's books as companions, it is useful for us to give hard thought to identifying what distinguishes the leadership of a Franklin Roosevelt, on the one hand, from that of a Garibaldi, on the other. Personally, I found the challenge of trying to sort through the distinction between healthy and unhealthy dependence on a leader to be an extremely difficult mental exercise — particularly in the context of business, where political freedoms aren't at risk.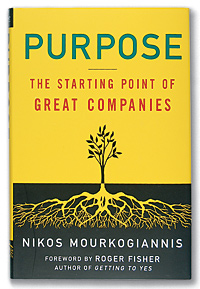 Profit and Other Motives
The problematic challenges raised by great businessmen are explored in a third new book, Purpose: The Starting Point of Great Companies, by Nikos Mourkogiannis. This is surely the least traditional leadership volume of the year, if not the oddest. Part personal memoir, part advertisement for the author's London-based consulting firm, part business history, part philosophical text, part ethics sermon, and part annotated graduate-student bibliography, Mr. Mourkogiannis's book might be the perfect illustration of the new multidisciplinary trend in leadership books. Actually, Mr. Mourkogiannis would have been well served by a skilled editor who sharpened his focus. Nonetheless, this is an earnest effort with a moral message that deserves consideration: Profit in itself is an insufficient purpose for sustaining a business. The author claims there are just four legitimate business purposes: Discovery, Excellence, Altruism, and Heroism.
Although I can't say I was convinced by the way he arrives at his conclusions, he surely is spot-on in identifying Henry Ford as the avatar of heroic business leadership. If any businessman ever was, Ford was a Great Man who engaged in "a single-minded effort to change the world" and succeeded. Exactly as Ms. Hughes-Hallett describes her heroes, Ford was an obsessive, outsized figure to whom the rules regulating the lives of other men didn't apply. He overcame all the obstacles — technological, financial, organizational — that had kept other business leaders from creating the revolution of mass manufacturing that ultimately led to unimagined economies of scale in production and subsequent low prices for consumers. What a genius! What a superman!