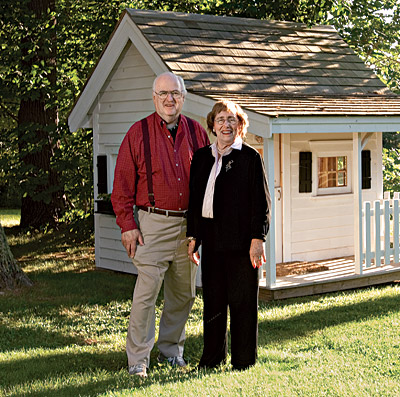 Though Professor Lewin died of a heart attack several months before NTL opened, his students started it on schedule and ran it every summer from 1947 through the late 1960s. Purposely remote in a far western corner of Maine in order to provide a "cultural island" uncontaminated by daily concerns, NTL offered intense three-week sessions called "T groups" (T for training), led at first only by the most eminent social scientists in the field. Participants included up-and-coming academics, along with senior executives from major companies (TRW, Digital Equipment, Esso, various oil refineries, and the wonderfully archaic-sounding Doughnut Corporation of America) who could afford NTL's hefty fees. Many well-established practices of group process were pioneered at NTL: giving feedback, conducting "check-ins" to begin meetings, sitting in circles, using flip charts, scribbling on big pieces of paper taped around the room, collaborating on visions for the future, and forming "fishbowls," or groups set up in the center of a larger circle to interact while those around them observed what they were doing. The institute's leaders, called "fellows," established organizational consulting practices and thus carried what they learned to corporations, educators, military units, health-care providers, religious leaders, associations, and communities around the globe.
The personal history of the Seashores is inseparable from NTL. They both came as students. The then Edie Whitfield had been student body president of Antioch College, a prestigious liberal arts college in Ohio. She was also a protégé of Antioch's President Douglas McGregor, who was author of The Human Side of Enterprise, a pathbreaking 1960 book about humanistic management. Introduced to NTL in 1954 by her mentor, Edie was an instant hit — a self-possessed college girl thriving among the accomplished and idealistic, but somewhat stiff, professors who congregated there. Charlie Seashore arrived a few years later with a more conventional resume. He was a Ph.D. candidate at the University of Michigan, from a family of well-known psychologists; his grandfather had been instrumental in bringing Kurt Lewin to the University of Iowa. Charlie was a group dynamics natural; he disliked the detachment of conventional social science research, wherein experimenters were so intent on remaining "objective" that they would barely talk to their subjects or help them with their problems. What good was a social science research project if it didn't improve people's lives?
Neither Edie nor Charlie was typical of NTL. Charlie's love of clowning and laughter could lead others to miss his underlying seriousness of purpose. And Edie, while popular, was "basically a mascot," she recalls. "I was cute and funny and the guys liked having me around even if they didn't know what to do with me." For nine years, less-skilled and less-experienced trainers were named fellows while she was turned down, partly because she had no Ph.D. (the prospect of getting one bored her) and partly because she was a woman, a condition to which fellows could then still openly object. "T groups were basically devised by men," she later recalled, "to teach other men the kind of collaborative skills that often come more easily to women. I think the men feared that once they let women in, women would run away with the program."
The fear was not unfounded. In the mid-1950s, rather than subject the male participants' wives to one more shopping trip through Maine's woolen mills, the faculty decided to start a spouse group. It was the only women's group at NTL during its first two decades, and it struggled until Edie volunteered to take over. "The participants said, 'So this is group work? We can do this!' They ended up entering the field, teaching NTL sessions, getting Ph.D.s, divorcing their husbands, completely changing their lives," she says. Women consultants, tiptoeing quietly out of the NTL closet, suddenly found a distinct managerial role in organizational development work — a role that is taken for granted now, but was revolutionary then.