The solution is not simply more money or technological wizardry. At heart, we face a challenge of imagination. Solving the problem will require letting go of obsolete approaches to financing, governance, and management — approaches that no longer work in our politically, technologically, and administratively complex society. We will need new incentives for planners and builders and new ways of designing decision rights exercised among dozens of related players from the public and private sectors. We will also need to recognize a controversial truth: Transportation, energy, and water infrastructures are so interdependent that they cannot be effectively addressed separately from one another.
Sooner or later, the money needed to modernize and expand the world's urban infrastructure will have to be spent. The demand and need are too great to ignore. The solutions may be applied in a reactive, ad hoc, and ineffective fashion, as they often have been in the past, and in that case the price tag will probably be higher than $40 trillion. After all, infrastructure projects are notorious for cost overruns. But perhaps the money can be spent proactively and innovatively, with a pragmatic hand, a responsive ear, and a visionary eye. The potential payoff is not simply the survival of urban populations, but the next generation of great cities.
Infrastructure Fatigue
This article, of course, is hardly the first to identify the urgency of the infrastructure problem, or to hypothesize a solution. But several trends combine to make the need to address the crisis more urgent than many people may realize.
First, the demand for essential infrastructure is exploding. The world's population is projected to increase by one-third, to exceed 8 billion by 2050, with — for the first time in human history — more than 50 percent of humanity living in metropolitan areas. The requirements for water, power, and mobility will rise accordingly, even as population density makes it more difficult to build and protect the robust infrastructure needed to satisfy that demand. (See Exhibit 2.)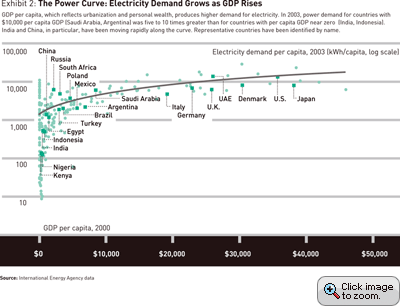 In addition, a new wave of global workforce mobility has added to demand. As companies hire people from around the world, both employees and employers are less constrained by national or regional interests. Urban areas increasingly compete for the best, brightest, most hardworking, and most entrepreneurial residents. In a study of U.S. urban competitiveness, economist Joseph Cortright wrote: "Young adults, particularly college-educated 25- to 34-year-olds…will play an especially important role in determining which places grow." Some U.S. cities attract young talent (Atlanta; Charlotte, N.C.; Portland, Ore.), while others (Philadelphia, Providence, Dallas) struggle to catch up. Access to global capital and technology has similarly reinforced the cultural magnetism of cities such as Bangalore, Barcelona, Curitiba, Dubai, Dublin, Milan, Perth, Prague, Shanghai, Sofia, and Toronto. Abundant and reliable power, water, and transportation are critical enablers of the higher quality of life — economic, social, and cultural — that makes these cities attractive and stems the so-called brain drain.
The typical life cycle of urban development also reinforces demand for infrastructure. As more people live and work in metropolitan areas, they need and expect more affordable housing. The default result, barring a coordinated effort to align mass transit systems and transit-oriented development, is a sprawling metropolitan area encompassing miles of suburbs — and in less-developed countries, shantytowns. In such low-population-density environments, roads and highways become the only transportation mode that works. This, as we have seen time and again, becomes a recipe for gridlock. Water and electricity grids must also serve more people over greater distances than in the past.