The New Normal
In last year's CEO succession survey, we hypothesized that turnover at the 2,500 largest companies in the world had reached the crest of the wave that had gathered force in the 1990s, and suggested that both total turnover and performance-related turnover would recede slightly from 2005 levels, while average CEO tenure would increase. All three predictions proved correct. Total CEO turnover did fall, with the cyclical increase in merger-driven turnover almost offsetting the declines in other types of turnover. (See Exhibit 1.) Performance-related turnover fell slightly, to 4.6 percent. Globally, the average CEO tenure increased to 7.8 years, slightly higher than the average across the nine years we've studied.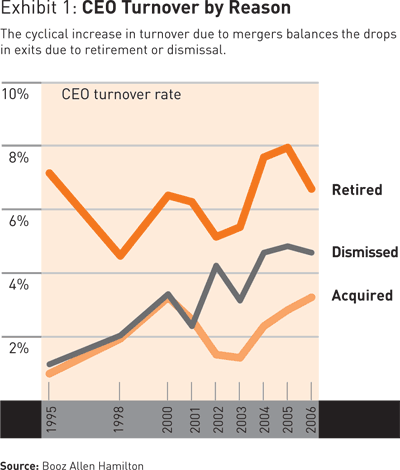 The turnover wave has crested in every region of the world. In 2006, total turnover in Japan and the Asia/Pacific region fell below the levels of the previous two years. (See Exhibit 2.) Turnover in North America declined from the 2005 level. Although Europe experienced a slight increase over 2005, CEO turnover remained well below its 2004 peak.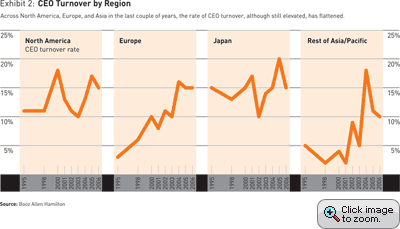 In 2006, performance-related departures declined in North America and Europe. Although performance-related turnover increased in both Japan and the rest of the Asia/Pacific region, the level remained below the 2002 peak. North America, Japan, and Asia/Pacific all saw increases in CEO tenure, with Asia/Pacific reaching its longest-ever average at 9.5 years and North America hitting 9.8 years — the longest average tenure since 1995. Only Europe experienced a decline in tenure, to 5.7 years, despite record returns to shareholders. Furthermore, the mean age of outgoing CEOs dropped to a record low in Europe, suggesting that chief executives in that region are still under tremendous pressure.
The stability from 2004 through 2006 contrasts with the previous decade's rapid increases in both total turnover and forced turnover, and with the decline in tenure during those years. We've reached a new normal.
From the overall perspective of corporate governance, the new level of turnover is very reasonable: The 7.8-year average tenure for CEOs provides them enough time to implement their initial strategy, and the rates of mergers and performance-related terminations are high enough to allow for timely removal of both poorly performing CEOs and those engaged in illegal or unethical behavior.
Boards Are Adapting
Looking back at the nine years' worth of data in our study, we have identified two fundamental shifts in the ways corporate boards address CEO selection and oversight: They are becoming less tolerant of poor performance, and they are increasingly splitting the roles of CEO and chairman.
Our study reveals that CEOs who deliver below-average returns to investors don't remain in office for long. Exhibit 3 shows the proportion of North American CEOs leaving office in 1995 and 2006 after seven years or longer. Notice that in 2006, a CEO who delivered above-average returns to investors was almost twice as likely as one delivering subpar returns to remain CEO for more than seven years. In contrast, in 1995, CEOs who delivered substandard returns to investors were just as likely to achieve long tenure — a perverse situation that reflected the durability of the imperial CEO. The likelihood of surviving to seven years declined for good and bad performers alike between 1995 and 2006, but the decline was modest for good performers, whereas CEOs who performed badly for investors were removed far more quickly.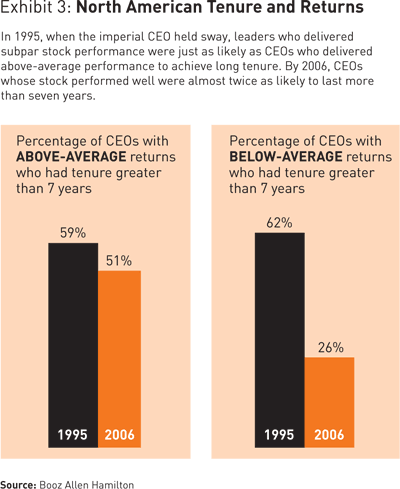 The other major trend has been in governance, with both a shift toward separation of the roles of chairman and CEO and a shift toward chairmen who haven't previously served as a company's CEO. (See Exhibit 4.) In North America, the dominant dynamic is the doubling from 1995 to 2006 of the proportion of chief executive officers who have never held the title of chairman, with only a modest reduction in the proportion of chairmen who had previously served as CEO.