No wonder knowledge-based procurement models, and the management philosophy underlying them, are becoming more attractive to many manufacturers. (See Exhibit 1.) Although they are not perfect, the Toyota and Honda sourcing models consistently earn high marks from suppliers — and favorable terms. As one automobile manufacturing executive put it recently, "Honda cost estimators can tell suppliers their own costs within 1 percent accuracy." That's meaningful because suppliers are often unable to identify their own manufacturing expenses with anything near this degree of certainty, and thus often suffer overruns. Backed by accurate cost information, automakers and suppliers can jointly develop a performance improvement plan to reach their cost goals.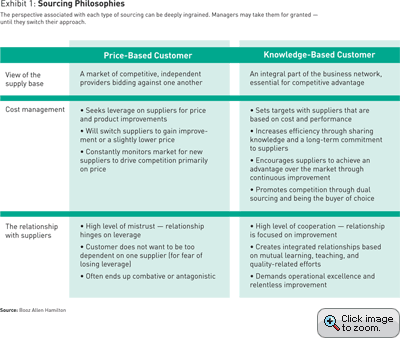 Manufacturers are equally rewarded. For companies that adopt the Toyota/Honda approach, the acquisition costs for parts such as pistons, exhaust manifolds, and cylinder heads are 35 to 55 percent lower than those from traditional procurement models. Several factors account for this: First, product and part designs can be delivered at lower costs. Second, productivity and quality improve as suppliers practice joint process coordination and improvement. Third, manufacturers' purchasing departments can be quite small because they work with fewer, more strategically chosen suppliers. Fourth, warranty costs drop as much as three percentage points. Finally, fewer components need to be reengineered after launch. Both manufacturer and supplier thus avoid the added costs of changing product designs at the most expensive time, during production.
For all these reasons, in everyday practice, knowledge-based sourcing consistently outperforms the traditional bid-based model. This is true for companies in a variety of industries, and particularly for repeat purchases of anything that is not a true commodity. In most cases, even taking into account annual price cuts of approximately 5 percent, the quoted price under competitive bidding doesn't approach the agreed-to cost under knowledge-based sourcing for the life of the contract. (See Exhibit 2.) More importantly, this form of win-win sourcing ensures that the improvements learned on one program or product will be transferred to the next. Meanwhile, the improvement plan continues to achieve new levels of success each year, until productivity gains draw the supplier ever nearer to ideal cost expectations, which reflect more closely the supply and demand realities.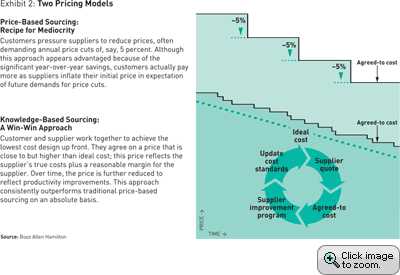 Yet as advantageous — and profitably innovative — as knowledge-based sourcing can be, many companies, particularly Western ones, have had a hard time adopting it. Some executives find it difficult to accept the idea that knowledge-based purchasing savings of 3 percent per year could be more profitable than the 5 percent annual savings mandated under the price-based system. "Impossible," one chief financial officer protested. But it's not impossible. It merely requires a company to overcome its ingrained habits and internal obstacles. The path to knowledge-based sourcing includes reframing supplier relationships, building and sharing knowledge along the supply chain, and instituting new employee training in factory processes, product development, and industry operations so that employees can accurately gauge ideal costs and potential cost improvements.
Don't Copy Toyota
For executives and procurement managers who want to adopt knowledge-based sourcing, but who have not grown up with Asian purchasing techniques, a framework can translate these techniques into more familiar Western-style rubrics. American and European businesses that adopt knowledge-based sourcing often need a new set of formal cost and performance metrics and new employee incentives. These standards replace old price-based sourcing metrics, which were most likely aimed at attaining those old-fashioned annual procurement cost savings. The new metrics are designed to help managers work closely with suppliers, in an atmosphere of mutual trust, to achieve the ideal cost for each item. They incorporate improved supplier measurement techniques, worker evaluation programs, and a system of salaries and bonuses geared to meeting performance goals — not to meeting narrowly defined purchase price or cost objectives.