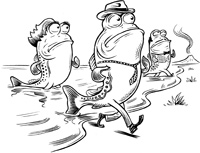 Illustration by Lars Leetaru
During our nearly 70 combined years of consulting, we have worked, together and separately, with more than 50 organizations involved in large-scale transformation. These are generally companies that need to accomplish something they've never done before: enter new markets, grow in unprecedented ways, re­organize a debilitating structure, recover from a dramatic upheaval in their industry, or recover from their own unfortunate errors. Some of these companies achieve extraordinary results once they begin to transform themselves; others stumble. And for all their diversity, we see patterns of consistency among them — both in successful transformations and in the mistakes that often undermine such efforts.
We think our clients know this too. Most of the leaders we work with, after all, are experienced corporate practitioners. Like everyone else with a long career in business, they've been through their share of corporate changes. (Many of them, earlier in their careers, endured transformations that didn't succeed.) They know that success is rarely a matter of applying the latest breakthrough techniques or jargon-laden formulas. Successful transformation requires the common sense of experienced management. Un­fortunately, the ability to apply that common sense, especially over the long time frame of a serious change in organizational culture, is all too rare.
Why is it so difficult to keep a sharp focus on the basic priorities that any CEO knows are important? We think the uncertainty of the process itself is part of the reason. Any transformation aimed at altering an organization's basic way of operating disrupts business as usual and requires individuals to change long-established behaviors — starting at the top of the organization, with the CEO. This in turn requires everyone else to make a collective leap of faith. They must adjust their habits and adopt new structures, working practices, and guidelines — whether developing new targeted customer groups or implementing new types of performance metrics — while recognizing that the outcome of these efforts cannot be fully known in advance. The imperative to start a journey of transformation may be pressing, and specific targets may be clear, but the way the journey will unfold is unknown.
This uncertainty means that contradictory messages will filter back to the top leadership from within, even when the case for change, driven by market forces and competitors, is clear. The message "We are making real progress!" will come up, but so will frantic cries that "Our marketing efforts are failing!" and "We can't work this way!" To make the journey of transformation, leaders must have the confidence –– and the humility –– to send people forward, even though the particulars of where they are going are not known.
Every successful large-scale change we have worked on has gone through such a period of uncertainty and come out the other end. Organizations that fail to achieve large-scale change usually falter in several predictable ways. In our experience, a CEO needs to keep in mind at least 10 critical factors. For each of these factors, there are one or two typical mistakes that CEOs make that can be easily avoided. And that in turn can make all the difference.
Prerequisites for Success
Although many readers are likely to think, "I've heard this before," there's a reason these 10 factors keep coming back as prerequisites for success. They're as vital as common sense suggests they should be. But it takes a lot of uncommon concentration and awareness to put all of them into practice.
1. The CEO makes a strong case for change by clearly and persuasively articulating the factors that are driving it. Most people in organizations understand that today's highly competitive global marketplace shapes business in unpredictable and often punishing ways. As a result, stakeholders will support large-scale change if they are truly convinced that such change is essential. But for this to happen, the CEO must personally make the case, starting with a compelling analysis of the business climate that makes it bracingly clear why the organization must embark upon radical change.