As social network specialists have been saying for years, beneath the formal organizational chart of any company lie hidden webs of social interactions that we rarely talk about, webs whose existence we may not even acknowledge. The health or dysfunction of these social networks can determine the effectiveness of a team, a large group, or an entire firm. "Ignoring these influences when you're running a company is crazy," argues Pentland, "because the data shows that it is at least as important as our rational behavior." To be sure, most senior executives know full well that the "soft side" of their operations is the most important enabler of a well-functioning team or company, but the tools for monitoring or measuring the soft side have always been expensive and unreliable. Even the most diligent social network analysts can't sit in a corridor and observe a company for hours on end. They are limited to interviewing or surveying people about whom they communicate with, and the answers may not always be accurate or complete. The technologies of sensing and observation may be about to change all that, while increasing the number of factors and indicators that can be mea­sured in the process.
In short, these sensors may make it possible to track the unconscious and instinctual side of human behavior, along with the collaborative and social side, in a way that helps some companies outcompete their rivals. Sensors may put management research on a much more empirical path, providing fine-grained data that could lead to a more innate, reliable understanding of how organizations work. And like many scientific ad­vances, they may also raise a host of new ethical concerns. To understand corporate behavior thoroughly, re­searchers like Pentland and his team have to monitor and analyze people's behavior in unprecedented detail, putting potentially sensitive data on subtle personal cues and social habits into permanent computer storage. It's not yet clear how researchers can balance the desire for workplace privacy with the equally compelling drive to understand how corporations really work — and provide their host companies with competitive advantage in the bargain.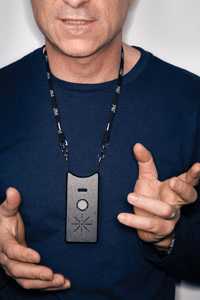 An MIT Media Lab researcher wearing
a sensor that tracks physical movement
to gather data for analysis of network dynamics.
Mapping Cognitive Channels
In 2005, in experiments conducted jointly with Jared Curhan of the MIT Sloan School of Management, researchers from the Human Dynamics Group asked MBA students to take part in simulated face-to-face negotiations. One student played a middle manager taking a job in a new division, and the other the vice president of that division. They were asked to negotiate the manager's salary package, with real monetary rewards at stake for the participants. The negotiations often lasted an hour or more. Yet in just five minutes, an electronic sensor could predict with 87 percent accuracy which person would come out on top, merely by cueing in to bodily movements and manner of speech, ignoring words and strategy. As the sensor data revealed, successful middle managers tended to be strong on "mirroring" behavior — unconscious mimicking of the gestures and movements of their conversational partners. This demonstrated empathy and understanding. In contrast, the most successful vice presidents tended to talk more and control the pace of the conversation, a social behavior that the researchers referred to as "engagement." For both participants, a consistent emphatic tone, conveying confidence, was also critical.
This type of research confirms in the business setting what some psychologists have suspected for years — that human behavior can often be predicted with re­markable accuracy by paying attention to so-called thin slices of what people do. Malcolm Gladwell popularized this concept in his 2005 book, Blink. After watching 15 minutes of video of a married couple conversing, trained observers can tell with 90 percent accuracy whether the marriage will last. By observing a doctor speaking with a patient for 45 seconds and attending only to his or her pitch, rhythm, and intonation — which convey warmth or lack of it — analysts can identify those doctors likely to be sued for malpractice.