Successes and Failures
Florida's experience offers important lessons for anyone responsible for managing the response to an emergency. Many leaders understand that their success depends on their ability to work with a multitude of government, business, and civil-sector organizations that have shared interests. (The civil sector includes charities and humanitarian groups, civil associations, religious organizations, academia, and other NGOs.) This need for multisector involvement is especially great today, because many disaster scenarios — such as a volatile hurricane season, a pandemic influenza, a large earthquake, or a ter­rorist strike — hold the potential to produce catastrophic, cascading impacts that tax the social, economic, and political resources of a region. (See Exhibit 1.) The most effective way to manage this is by creating partnerships and alliances across organizations, without compromising each organization's imperatives and legal responsibilities. This type of in-depth, long-term alliance has been dubbed a megacommunity. (See "The Megacommunity Manifesto," by Mark Gerencser, Fernando Napolitano, and Reginald Van Lee, s+b, Summer 2006.)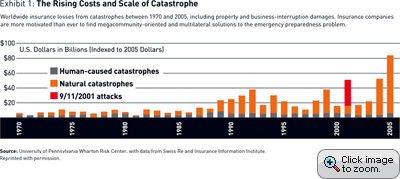 A megacommunity is a public sphere in which organizations — public, private, and civil — join together to address a compelling issue of mutual importance. Leaders are attracted to megacommunities because they recognize that many modern challenges — such as protecting the environment, stopping the spread of infectious disease, or battling global warming — are so complex and far-reaching in their geographic impact that no single organization or even nation can adequately address them unilaterally. Many local-scale problems, such as water conservation, traffic congestion, or economic revitalization, also defy remedy by a single government agency or large corporation. Thus, government agencies, in particular, are beginning to turn to the megacommunity approach — designing, convening, and supporting consortia of shared-interest organizations. Although organizations within a particular megacommunity may compete in other spheres, they act together in a sustained partnership to address a complex problem that none can solve on its own.
If Florida's experience has served to underscore the effectiveness of the megacommunity, then the Gulf Coast's 2005 experience with Hurricane Katrina vividly illustrates the devastation and misery that can occur in its absence. In the aftermath of the floods and evacuation, the Federal Emergency Management Agency (FEMA) and various local and state authorities were all blamed for their lack of preparation and dismal response to the unfolding disaster. FEMA was singled out by some critics as the primary culprit.
But FEMA did not fail, nor did individual state or local agencies. It was the megacommunity that failed, or — more accurately — failed to exist. The preparedness stakeholders, though interdependent, were not ready to respond in concert to the disaster. Because they had not rehearsed or prepared together, they could not act effectively as individual organizations.
Since Katrina, FEMA has set for itself the admirable goal of becoming a world-class emergency management organization. But the agency can unlock its full potential only by embracing and nurturing the preparedness megacommunity on which it depends. Some under­reported successes in Katrina point to the possibilities. For example, Florida played an integral role in supporting southern Mississippi and Louisiana. Within hours of the storm's landfall, Florida began deploying more than 3,700 first responders to the affected areas. Florida also contributed millions of dollars that were eventu­­­ally reimbursed to the state through the Emergency Management Assistance Compact (EMAC).
Core Elements
The megacommunity is a relatively recent phenomenon. It is made possible by the increasing complexity, interdependence, and technological sophistication of modern society. A megacommunity takes advantage of the pervasive information technologies (such as shared servers, satellite phones, and geographic information systems) that enable people and organizations to communicate easily across national and organizational boundaries, sharing information and collaborating in ways not possible just 10 or 15 years ago.