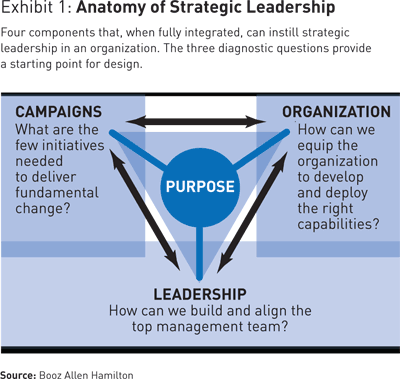 Four Starting Points
Conventional wisdom would have it that a crisis is the most common trigger for change. A company faces bankruptcy, court proceedings, or sudden, fierce, business-destroying competition. Current strategies aren't working. Urgent turnaround is needed. And in fact, the perceived threat of extinction is often a prelude to the dramatic entrance of a turnaround artist from the outside, such as Carlos Ghosn at Nissan in 1999, Robert Stevens "Steve" Miller at Delphi in 2005, and Robert Nardelli at Chrysler in 2007. The fate of the company often depends on how well this new heroic figure can draw upon leadership capabilities: his or her own, those of the senior leadership team, and those of people throughout the company.
In our experience, however, only about 15 percent of the companies that voice a need for change are truly in crisis. A far more common situation — involving as many as 60 percent of those companies — is a state of inconsistency. A leader recognizes that, of the half dozen or so strategic initiatives currently under way, one or more aren't delivering results or living up to expectations. "Why aren't we getting a better multiple?" asks the leader. "How can we improve our poor performers?" This was the condition of General Electric when Jack Welch was appointed CEO in 1981; he famously dealt with it by decreeing that every business unit would have to be number one or number two in market share in its niche; otherwise, he would "fix, sell, or close" divisions. The number-one-or-number-two criterion doesn't apply to every company, but the general challenge is much the same: to find a prescient way to distinguish the value of activities and improve or prune the laggards.
We estimate that another 15 percent of the companies that seek advice on leadership are doing well, at least by their own criteria, but the leaders at the top want to take on new challenges. They worry that the organization will not make the leap with them, if only because the employees are too focused on executing day-to-day business. To combat this complacency, John Barth, CEO of auto components manufacturer Johnson Controls from 2002 through 2007, initiated what he called a "growth culture" at this already profitable company — moving into Asian markets, driving for more competitiveness against other component manufacturers, and expanding Johnson's air-conditioning and heating systems and battery-manufacturing businesses into green technology enterprises.
The remaining 10 percent of the companies that seek help are recovering from a poorly designed full-scale transformation (an effort to change the entire firm's culture, organizational structures, and leadership practices at once). Typically, the chief executive had called for a bold new direction, and 20 or more initiatives had been started, all overseen by a "turnaround leadership team" of seemingly committed executives. Some shorter-term cost reduction efforts had paid off; bankruptcy or a forced sale may have been averted. But it had soon become clear that it would take a lot more attention and effort to grow the top line than anyone had expected. The company's leaders had thus "declared victory," written up the preliminary results as a success, and moved back to business as usual. Comparatively few of those companies reach out for further help — they're usually too exhausted — but some do.
If you are a leader initiating a major change or a board seeking a leader to oversee change, then those are your starting points: crisis, inconsistency, complacency, or exhaustion. How long do you have to put in place a design for strategic leadership? For an answer, consider the statistics on CEO tenure. Although chief executive terms may last anywhere from one to 20 years in large global corporations, the average tenure for the CEO of a global corporation is just under eight years, according to Booz Allen's most recent annual study of CEO succession. This is consistent with Joseph Bower's estimate in The CEO Within — that a chief executive has between six and 10 years to make a mark and build a legacy.