That's a shame, because the broader your awareness of work in the field, the more effective your design can be. It's helpful to know, for example, that (as David Sirota and his colleagues report from their research on The Enthusiastic Employee) deliberate efforts to accentuate fairness, camaraderie, and recognition lead to improved workplace productivity. Or that (as organizational researcher Elliott Jaques proposed) organizational hierarchies work well when structured to fit with employees' cognitive capacity. Or that (as neuroscientist Jeffrey Schwartz and executive coach David Rock have written) successful organizational change initiatives require day-to-day practices that focus people's attention in a habitual manner.
Because every organization is different, diagnosing your situation and culture is critical. The questions will vary with your company's situation. (See Exhibit 3.) The process will involve your most talented and committed senior executives. And it may take several months of concerted effort before you all understand each other and feel comfortable with the company's purpose and in defining the right set of initiatives to pursue. But sometimes you have to go slow to go fast. Extra time and care in bringing people to a common understanding at the beginning means far less time lost in false starts and retrenchment later.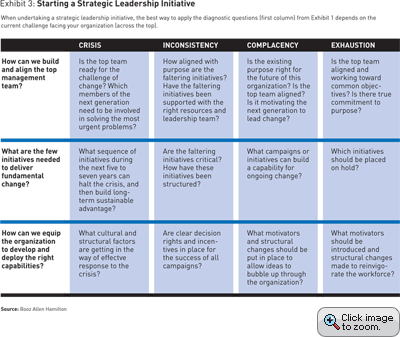 This approach to designing strategic leadership will not appeal to every executive. Indeed, as companies experience increasingly intensive pressure from institutional investors, regulators, private equity firms, and hedge funds, it sometimes feels as though the well-developed long-term leader is an endangered species. ("Just get a CEO who can put a strategy in place, push people to execute it, and fire those who don't!") But a growing group of CEOs, and their boards, recognize that the purely utilitarian approach is not sus­tainable. It won't retain talent, it won't build competitive advantage, and, in the end, it will create only acquisition targets.
A design for strategic leadership is the alternative. It is not a new approach; it is simply the practiced, considered strategy for change that the best and most long-lived companies have always used. There is no real mystery to it, but it takes the kind of commitment, dedication, and respect that truly makes a company a greatplace to work.

Jeffrey Immelt's Three-Part Story Line
by Noel Tichy and Warren Bennis
When Jack Welch handed over the reins of General Electric to Jeffrey Immelt in September 2001, Immelt knew that he would soon be making some changes. During Welch's 20-year run as CEO, GE had dramatically outperformed the economy, creating over US$400 billion of new market value. Still, Immelt knew that if he limited himself to tinkering around the edges and making GE's current business model run better, the company would not retain its preeminence for long.
Immelt officially became the chairman and CEO of General Electric on September 7, 2001. Four days later, terrorists attacked the United States. In only a few hours, just about every aspect of, and every assumption about, the future direction of the world's economies and of geopolitical life was called into question.
At such times, a leader's capacity for laying out the future story of his or her organization is vitally important. It provides a platform for making the key people, strategy, and crisis judgments. To be effective, a leader's "story line" (as we call it) has to answer three questions about the organization and its potential: Where are we now? Where are we going? How will we get there?
To Immelt, the world in which GE had to operate after 2001 would be marked by slower growth and more volatility. "There's not going to be a rising tide to lift all ships universally," he said. "There are going to be businesses that win, and businesses that lose; countries that win and countries that lose." To attract and motivate good people in this environment, Immelt believed, GE needed to become more humane. In fact, society and government would demand better corporate behavior. "Just being great isn't enough any more. Companies and people have to be both great and good to be successful in the future."
Based on this story line, Immelt made judgments about what businesses GE should be in and how it would conduct those businesses. Those judgments included making sure that his own pay package was moderate compared to that of other CEOs and that all his incentives were tied to GE performance.
The next element in his story line was to figure out how GE could operate most successfully in this changed world. The answer he arrived at was that GE could best generate organic growth by using its strong research and technology base to de­velop new markets. Some of the markets offering huge opportunities would be developing countries that needed to build infrastructure for power, water, energy, and transportation. In the more advanced economies, the best opportunities would be in un­served or underserved markets: health care, energy saving and production, and environmentally friendly products. This assessment informed strategic decisions that included buying
Am­ersham, a leading company in the diagnostic imaging and life sci­ences markets, and increasing in­vestment in wind-generation and ad­vanced technology for the oil and gas industry.
The third element of Immelt's story line ("How will we get there?") describes how GE will go about succeeding in these markets. Because he saw that global warming and the need for sustainable energy were serious concerns, Immelt made the judgment that GE would come up with a strong response. In 2005, GE launched its Ecomagination initiative, a multidisciplinary campaign to apply GE technology to drive energy efficiency and improve environmental performance. He also provided much greater transparency to the investor community than GE had in the past. He proactively set standards for other companies in the post-Enron, post-Tyco, Sarbanes-Oxley world. He is continuously pushing the boundaries of how transparent GE can become without giving away too much information to its competitors.
Immelt also created a growth process for GE. This included, for example, hosting "customer dreaming sessions" to drive innovation. These are one- to two-day sessions held at the company's John F. Welch Leadership Development Center at Crotonville, N.Y., with the CEOs and key leaders from the GE businesses. His job as a leader is to create the platform for other GE leaders to make good strategic judgments.
Jeff Immelt works closely with the CEOs of the GE businesses on their strategy, budgets, and succession planning, and on their involvement in corporate initiatives such as lean Six Sigma quality programs, growth platforms, leadership development, and technology transfer. He personally teaches at Crotonville every few weeks. He visits GE's Global Research Center as often as four or five times a year. He gathers the heads of the business together with key corporate staff four times a year for multiday workshops at Crotonville. Immelt also goes out to each business unit to do succession planning reviews, all-day strategy reviews, and operating plan reviews. Even though, as CEO, Immelt makes the final call on the big items, judgment at GE is a team sport.
Noel Tichy ([email protected]) is a professor at the University of Michigan's Ross School of Business and the author of The Cycle of Leadership: How Great Leaders Teach Their Com­panies to Win (with Nancy Cardwell, HarperCollins, 2002) and many other business bestsellers.
---
Warren Bennis ([email protected]) is distinguished professor of business ad­ministration at the University of Southern California, and the author of Reinventing Leadership: Strategies to Empower the Organization (with Robert Townsend, William Morrow, 1995) and many other business bestsellers.
---
This article is adapted from Judgment: How Winning Leaders Make Great Calls, by Noel Tichy and Warren Bennis (Portfolio, 2007).