Note at the core of that quote the essential idea: the willingness and ability to design for accelerated feedback. In other words, Nakamura constantly seeks to swiftly test the validity of his innovation hypotheses. That humility facilitates the transformation of a technically interesting material into a patentable and profitable optical device.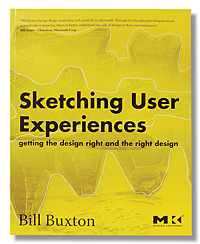 Design for Innovation Handbook
Bill Buxton's Sketching User Experiences is a lush, beautiful, and high-bandwidth book. It's filled with photos, sketches, and notes laid out in a visually stimulating and inviting format. If you want to understand how your innovation ideas can slide seamlessly from sketches to animation to prototypes, it's all here.
Buxton, now a Microsoft researcher but formerly a chief scientist at Silicon Graphics and Alias Wavefront and professor at the University of Toronto, has put together a handbook about design for innovation that is also intensely personal. Buxton himself is an idiosyncratic designer with good taste and strong opinions. There's plenty to disagree with. However, one cannot read this book in good faith without constantly thinking, "Hmmm…could I use this…there…?" Sketching is filled with case studies, examples, tools, and boldfaced aphorisms. As demonstrated in this passage, Buxton also energetically — almost aggressively — defines what he means by having humility in the design process: "People on a design team must be as happy to be wrong as right. If their ideas hold up under strong (but fair) criticism, then great, they can proceed with confidence. If their ideas are rejected with good rationale, then they have learned something. A healthy team is made up of people who have the attitude that it is better to learn something new than to be right."
He concludes: Design is compromise.
Much of Buxton's appeal comes from his willingness to mix the rigor of technique with the need for an open attitude. What Buxton has done is link design innovation and design tools with the organization's need for accessible product and process innovation. For me, the most charming element of the book is not its rigor of thought or clarity of expression but Buxton's authentic respect for researchers and designers in aca­deme and industry who bring user-oriented discipline to design. He takes attribution, acknowledgment, and history very seriously.
Any organization that is looking to design or designers as the key to differentiating the value of an innovation will treat this book as either a bible or a useful provocation. This book may be better for a business unit leader than for the CEO, but any company that has a vital innovation culture would surely benefit from having its chief marketing officer and intrapreneurs referencing Buxton's text.
Although Buxton's lavishly illustrated Sketching User Experiences reads like an idiosyncratic memoir-cum-design-handbook, it will enjoy a happily dog-eared existence on the desktops and nightstands of people sincerely looking for more innovative ways to be innovative. Because it goes beyond narrative and vignette to provide a well-designed and — yes — innovative innovation tool kit for business, it has earned its spot as the best innovation book of this year.
Of course, each book succeeds on its own terms while offering its own proprietary slice of innovation analysis. Each superbly captures the perennial role of failure in the dogged pursuit of success. All the books highlight the importance of luck, both good and bad, in shaping innovation decisions and outcomes. But, for me, the starkest theme is this: Far more than confidence and expertise, humility is the essential ingredient for innovation success.
It's not unreasonable to ask whether this review's emphasis on humility truly reflects the centrality of themes presented in these four books or instead is some psychological or rhetorical dysfunction of the reviewer. The politically correct answer would be "both." The reality is, if you read only one or two of these books, the humility issue is intriguing but not essential. If you happen to read all four — and have a good command of the innovation literature and personal experience — avoiding the humility challenge is intellectually dishonest.