Building strategic flexibility is messy and difficult, as Raynor shows in his analyses of Microsoft, Johnson & Johnson, and Vivendi Universal, as well as in the processes he describes for developing a range of possible future scenarios and then assembling and managing a collection of options to address them.
This philosophy of strategic flexibility, because it is costly and complex and unavailable to the individual entrepreneur, may be appropriate only for the largest of companies. More fundamentally, assembling a portfolio of options may best be left to investors, not operators. A collection of businesses reflecting alternative views on an uncertain future seems more like a venture-capital fund than a classic corporation. The justification for flexibility as a corporate strategy, Raynor recognizes (in a discussion similar to Chris Zook's arguments in Unstoppable, discussed below), is the potential for linkages across the portfolio: "Corporate diversification makes sense to shareholders only if it either captures synergies or creates options on synergies that investors cannot replicate."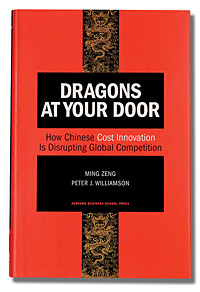 China Rising
The rise of China in the global economy is one of the greatest forces changing today's context for business strategy. Consider how it has reshaped certain industries once dominated by American companies: According to Ming Zeng and Peter J. Williamson in Dragons at Your Door, in air conditioners, microwave ovens, and cranes, the global market share of Chinese firms is 50 percent; in marine containers, lighters, and sewing machines, it is more than 70 percent. China is also enjoying high levels of trade surpluses, foreign direct investment, and foreign currency reserves.
Zeng and Williamson conclude that the most successful Chinese companies collectively represent a disruptive competitor of unprecedented scale and threat, exploiting a new strategy of "cost innovation," offering "high technology at low costs…presenting customers with an unmatched choice of products in what used to be considered standardized, mass-market segments — using low costs to offer specialty products at dramati­cally lower costs." By using a huge workforce that combines high skills and low wages, China is able to break the traditional trade-offs among sophisticated technol­ogy, product line complexity, and cost — at the design, process, and production levels.
In many ways, Chinese businesses today are retracing the evolutionary paths of their Asian predecessors. From the 1960s through the '80s, Japanese and then Korean companies introduced low-cost products built for the home market (albeit not on the same scale as modern China), then migrated quickly up-market as the incumbent players retreated to high-feature (but ultimately undefendable) niches.
However, China's threat is developing with greater speed and severity than that of the earlier Asian tigers. In addition to low wages and talented labor, China provides its companies with significant advantages, including subsidized access to government assets and intellectual property, management autonomy and stability, weak shareholder protections, and a national commitment to globalization and industri­alization. Moreover, Zeng and Williamson note, the world in which Chinese companies are competing has opened new gateways for them: the increasing modularization of products and services, a more sophisticated knowledge economy, the concentration and globalization of retailing, a more fluid international market for talent, and professional services and a more open market for corporate control.
Finally, the Chinese market has embraced world trade relatively early in its development process, attracting foreign (and overseas Chinese) capital, technology, and human resources, further accelerating growth and innovation.
How does a competitor address these challenges? Zeng and Williamson describe a range of strategic responses for organizations under threat, including emulating the strategy of cost innovation, which is difficult for most Western incumbents with high costs and legacy processes. Another response is to "give China a global mandate" by creating a local operation serving the Chinese market while providing cost innovation in products and development to the entire company. This approach can preempt the emergence of a world-scale local competitor. And the third suggestion is to build alliances with "dragons" to accomplish the same end, by positioning a partner's Chinese capacity as part of a global product portfolio and manufacturing footprint.