The best companies already pursue these strategies. For example, Procter & Gamble is developing lower-cost products to move beyond the wealthiest 8 percent of the Chinese market. Many industrial companies are focusing capacity investments in China to capture demand and preempt local competition.
However, the future of the dragons is not guaranteed; China's growth may be generating challenges of its own. Costs are rising in Guangzhou and Shanghai. Local demand is becoming more sophisticated. And in the Wal-Mart world that William Marquard describes, China's current perfor­mance in terms of quality, safety, emissions, and governance may not be acceptable to global consumers in the long term.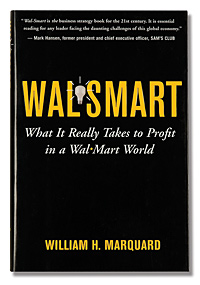 Competing in a Wal-Mart World
In Wal-Smart, William Marquard, a former Wal-Mart executive, examines the strategy behind a second great force shaping the current business environment and also recommends responses to China. Wal-Mart "is the dominant company of our era," he declares, representing 2.5 percent of the U.S. economy and nearly 1 percent of the global economy. Wal-Mart has transformed the retail world, making big boxes and "everyday low prices" part of every consumer's shopping experience. It has triggered among competitors greater specialization and focus on the shopping event so that they can offer consumers a distinctive alternative. Among its suppliers, Wal-Mart has changed patterns of product development and operations. Marquard says that "half the increase in retail productivity [from 1995 to 1999] could be traced directly or indirectly to Wal-Mart."
As hundreds of articles and many books have done before, Marquard's work describes Wal-Mart's killer strategy of relentless cost reduction, internally and through suppliers, that drives price reductions and in turn volume increases, feeding the cost reduction loop. Supporting this are strong processes that spread the improvements quickly across company stores.
The value of Marquard's book is that it identifies potential responses to this familiar situation. He believes competitors must make choices about "how to differentiate, what to emulate, and where to dominate" in order to distance themselves from Wal-Mart's low costs, utilitarian range, and experience. For suppliers, the preferred response seems to be to engage Wal-Mart on its own terms, leveraging brands, investing in supply and development processes, and diversifying channels.
Wal-Smart is a more thoughtful, and hopeful, analysis than most books about Wal-Mart. It recognizes that Wal-Mart is formidable, but understands where its limits might lie, both in Porter-esque terms of supplier, customer, and competitive power and in terms of its acceptability to the communities and societies in which it operates. For suppliers and competitors, the author makes clear the dynamics underlying Wal-Mart's success and the choices that must be made in response.
Whether you are a friend or a foe of Wal-Mart on issues of social responsibility, Marquard shows how the implications of Wal-Mart's strategic success for employees and communities are as important as its impact on competitors and suppliers. Wal-Mart "turned into a lightning rod for outrage over labor rights, human rights, women's issues, urban sprawl, energy consumption, small-town decline, you name it…. Thanks to the catalyzing effect of Wal-Mart, business was witnessing the birth of a new progressive social movement." Marquard's prescriptions are less well formed and less compellingly argued, perhaps because the phenomena he describes are themselves in the formative stage.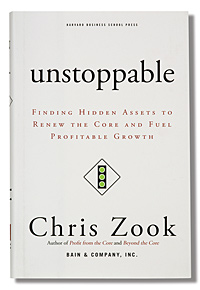 Beyond the Core
Unstoppable is the final volume in Chris Zook's "Core" trilogy. Having explained how to Profit from the Core: Growth Strategy in an Era of Turbulence (Harvard Business School Press, 2001) and to move Beyond the Core: Expand Your Markets without Abandoning Your Roots (Harvard Business School Press, 2004), he now describes how to develop a new core business when the current one no longer provides sufficient growth. In many ways, this is the practical handbook for developing and managing the sort of options for an uncertain future advocated by Raynor.