Starbucks is a great case study. We've almost all consumed its products, and it has reshaped Main Streets across the globe. It is now so totemic a success story that it crystallizes the opposing views about capitalism. Anticapitalism protestors have added Starbucks to their hit list, along with McDonald's, when it comes to heaving bricks through windows in street protests. European and American campaigners for nonviolence have pressured Starbucks into offering a Fair Trade–labeled product. The irony, as Blumenthal shows us, is that moral integrity has always been part of the company's stated values, key to ensuring employee morale, customer satisfaction, and investor enthusiasm. It has a reputation for treating employees well. It has long-term agreements to buy coffee direct from small growers rather than sourcing through the volatile global commodity market, and it has won recognition for offering premium prices to suppliers who meet its environmental and social standards. Its small investors are astonishingly enthusiastic and loyal, turning the annual meeting into an uncritical celebratory event.
Still, it is difficult to stay on the moral high ground all the time, especially for a global powerhouse like Starbucks. As Blumenthal so ably demonstrates, it is the very success of the company that has brought it trouble — not just from corporate critics but also from the investors who have profited so handsomely from their stakes in SBUX. The company's visibility has attracted the protestors, while the success of its business model has led to much stiffer competition and its share price no longer charges higher and higher as it mostly did up to late 2005. Blumenthal delves into illuminating detail in the case of Starbucks to illustrate the tensions inherent in the dynamics of capitalism, Schumpeter's subject on a grand scale. A very successful business, Starbucks has created tremendous value for its shareholders. It has also been, Blumenthal argues, a good company in the widest sense.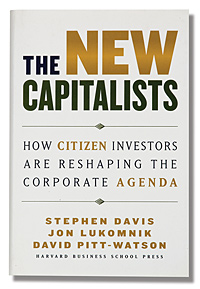 The Citizen Shareholder
Faith in the idea that a company can serve its shareholders by serving the greater good lies at the heart of the case for "new capitalism" made by Stephen Davis, a corporate governance advisor; Jon Lukomnik, former deputy comptroller of New York City; and David Pitt-Watson, previously chief executive of activist investors Hermes Focus Asset Management. As they note in their book The New Capitalists: How Citizen Investors Are Reshaping the Corporate Agenda, patterns of shareholding have changed substantially during recent decades.
In 1970, financial institutions representing individual shareholders and retirees held just 19 percent of the typical U.S. company's stock; the rest was primarily in the hands of very wealthy private individuals. Now, funds own more than half the U.S. stock market; in the U.K., institutional investors account for more than 70 percent. The changing nature of ownership, say the authors, has led to the rise of active shareholders who are more demanding of management. Individuals, through the vehicle of these funds, are more likely to attempt to wield corporate influence on topics ranging from a company's employment record to its impact on the environment. As the book's subtitle puts the argument, citizen investors are already altering the way businesses operate, and ultimately the character of modern capitalism.
There is a lot of wishful thinking in the argument that citizens are reshaping capitalism. For one thing, not many investors are activists. And a backlash against shareholder activism has emerged: Anthony Bolton, the U.K.-based superstar fund manager for Fidelity, recently used the occasion of his re­tirement to blast shareholder activists who use a tiny holding to try to alter corporate policies according to their own agenda. He urged companies to stand up to those seeking to divert them from maximizing profits and shareholder value. The increase in private equity financing can also be seen as part of the backlash, as private equity owners are not vulnerable to shareholder activism, although they might yet prove vulnerable to political lobbying.