Tatum identifies a specific growth period for startups: No Man's Land, a form of adolescence when the founders face key decisions dealing with "what to do when your company is too big to be small but too small to be big." Such a transition has always been part of what Adizes defined as the corporate life cycle — a well-defined process of growth with identifiable milestones as a venture matures. Yet No Man's Land does a good job of making this message current by identifying ways that the impact of technology on accelerating growth is affecting how startup founders should consider the questions they ask when analyzing their venture's potential. Tatum writes in a direct and engaging manner that focuses this material more clearly on his readership.
He argues that this adolescent stage kicks in after the full-time head count reaches roughly 20 employees. This is a threshold that forces a growing company to step back and reexamine how it can continue to satisfy the core value it offers as it becomes a fully formed venture. Such a transition is never easy. Often the very skills and passions that accounted for early success (such as stubborn focus and unyielding charismatic leadership) can be poison to sustained growth. Tatum says that companies must shift from what is often intuitive and undisciplined leadership by the founder to a more systematic way of delivering on the core promises it makes to its customers. The accepted way of working, which in most startups entails hustle, grueling hours, and improvisation, must morph into a more systematic, sustainable, and commonly understood way of acting.
Only by defining values and practices for itself can a business become scalable, Tatum argues. Often this transition requires a new set of leaders, people with experience at large companies. And it always requires a different financial structure — one geared for growth and stability rather than survival. He illustrates this point with nice insights: "Most entrepreneurs start companies be­cause they want to work for themselves. As their companies grow, entrepreneurs come to realize that they are responsible for a whole new constituency: their em­ployees. When entrepreneurs make it through No Man's Land, however, they might also become responsible for pleasing a third constituency, their equity partners."
This smart book communicates its key ideas vividly with great company stories and evocative writing. Tatum explains, for example, that a growing company must evolve like a children's soccer team. It must move from the stage where everyone is chasing the ball to a team where "everybody plays rationally and plays a specific position."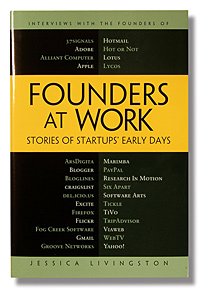 From Pride to Maturity
The model introduced by Tatum has broad value for new ventures, and it is reinforced by the variety of the individual narratives in Founders at Work, by Jessica Livingston. This compilation of interviews with 32 high-tech company founders (or early employees) provides insight and color into the formation of companies such as PayPal, Yahoo, Craigslist, and Apple.
In her introduction, Livingston explains that the goal of her interviews "was to establish a fund of experience that everyone can learn from." The random tales that she has gathered — of fits and starts, of individuals focusing on following their coding bliss, and of scoring big wins by focusing on small but achievable goals — all resonate powerfully.
There are numerous gems of wisdom sprinkled throughout the book. Ray Ozzie, founder of two startups and now the chief software architect at Microsoft, reminds zealots that ventures must eventually thrill customers: "I've never taken the perspective of 'build a cool piece of technology and see where it goes,'" says the builder of some of the coolest pieces of technology (such as Lotus Notes). "It's more or less been based on an intuition about a hole in the market — or more accurately, a future hole in the market."