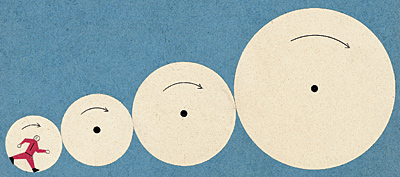 Howard Gardner
Five Minds for the Future
(Harvard Business School Press, 2007)
Lynda Gratton
Hot Spots: Why Some Teams, Workplaces, and Organizations Buzz with Energy — and Others Don't
(Berrett-Koehler, 2007)
Mathew Hayward
Ego Check: Why Executive Hubris Is Wrecking Companies and Careers and How to Avoid the Trap
(Kaplan Business, 2007)
Bruce L. Katcher with Adam Snyder
30 Reasons Employees Hate Their Managers: What Your People May Be Thinking and What You Can Do about It
(AMACOM/American Management Association, 2007)
Karen Otazo
The Truth about Being a Leader… and Nothing But the Truth
(Financial Times Press, 2006)
---
According to Hindu mythology, from time to time, God has appeared on earth in different incarnations to redeem humankind. One such incarnation was Lord Krishna, who was born into the Yadava clan.
The main character in the central narrative of the Mahabharata epic, Arjuna, was a superb archer and formidable fighter in a war between two families. Arjuna was always victorious in battle; he was a bit like the ever-successful CEO of modern days. However, he was vain and hubristic, also like many a modern CEO. Lord Krishna was Arjuna's mentor.
One day, the Yadava clan played a trick on three sages who, in retaliation, cursed the clan, vowing that it would one day destroy itself. As the curse took effect, the Yadavas began to kill one another. At an advanced stage of the crisis, Lord Krishna implored the artful archer and "turnaround CEO" Arjuna to save the Yadava women and thus the clan. Arjuna did so with acts of great valor. As he rode away victorious, the Yadava women in his chariots, bandits attacked the entourage. Again, Arjuna fought valiantly. This time, however, several women were slain. Arjuna's arrows did not protect them.
Mysteriously, Arjuna had lost his powers. Of this story, the 16th-century Indian poet Tulsidas wrote lyrically:
The same Arjuna with his arrows
failed miserably this time,
Truly, luck and timing influence
success in ways sublime,
This is an important lesson
to remember at all times.
Through the ages, in war and business, experience and skills have been greatly valued. However, luck and timing also seem to play some role, though the precise nature of this role has been unclear. The puzzle of what defines, and what diminishes, leaders is as intriguing to 21st-century publishers as it was to a 16th-century poet. Each year, scores of books are published that attempt to reveal the "truths" or "secrets" of success in management, especially as they relate to managing people. This year, I scanned many with titles that held out the promise of delivering new insights, and read five of them.
My experience with two of the five (Hot Spots: Why Some Teams, Workplaces, and Organizations Buzz with Energy — and Others Don't, by London Business School Professor Lynda Gratton, and Five Minds for the Future, by Harvard psychologist Howard Gardner) felt like dining in a fine French restaurant, enjoying a well-balanced meal topped off with a fine Merlot rich in antioxidants. "Fine dining" in the context of reading books about managing people (or to use the phrase du jour, human capital) translates to a full plate of academic scholarship exploring theories of the mind, individual and organizational behavior, and how leaders create conditions and perform in a way that leads to successful outcomes.
A third book, Ego Check: Why Executive Hubris Is Wrecking Companies and Careers and How to Avoid the Trap, by Mathew Hayward, is also a balanced meal, but without the wine. The emphasis is greater on anecdotal lessons and practical wisdom than on academic scholarship. Hayward, a former consultant at Accenture and then an investment banker, earned a Ph.D. in organizational behavior and strategy at Columbia University and is now a professor at the University of Colorado's Leeds School of Business. He seasons his book with management experience, and has a knack for storytelling.