For those hungry for the energizing but fleeting stimulation of carbohydrates, Karen Otazo's The Truth about Being a Leader…and Nothing But the Truth and 30 Reasons Employees Hate Their Managers: What Your People May Be Thinking and What You Can Do about It, by Bruce L. Katcher with Adam Snyder, offer formulaic numbered lists of truths and reasons. It's easy to be critical of quick-fix management fare, but such "fast-food" books can serve a purpose: They present functional tips, which are valued by those in a hurry.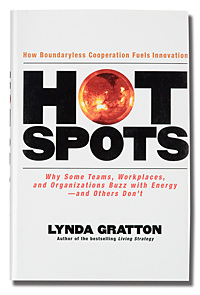 Creating Hot Spots
I have observed that over the last half century, management styles have changed significantly. The essence of leadership has shifted from the directive and logical toward the inclusive and humane. Managers value freedom over control. They view participation to be as important a factor in effective leadership as direction. They expect productivity as well as creativity.
Lynda Gratton's Hot Spots addresses the demands of today's business world. Named twice as one of the world's top management thinkers by The (London) Times, Gratton uses evocative metaphors to succinctly communicate her ideas. For example, when she describes the feeling of a Hot Spot ("time seems to rush by as you and those around you are 'in the flow'"), she also asks the reader to imagine standing on the peak of a mountain, looking out over the landscape through thermal-imaging goggles. You don't need to have had this experience to appreciate the rush of eyeing such a spectacular scene through these lenses.
Hot Spots are places within an organization where relationships and cooperation flourish, creating great energy, innovation, productivity, and excitement. Gratton's key message is that "relationships between employees build organizational value, and through these relationships individuals grow." Every operating man­ager has learned the hard way that the ability to cajole, persuade, threaten, and motivate groups like this is the key to getting things done.
Gratton describes how Hot Spots are the product of a multiplier effect among four elements: "cooperative mindset," "boundary spanning," "igniting purpose," and "productive capacity."
Leaders who cleverly draw out their group's intellectual, social, and emotional energy generate the first element, the cooperative mind-set. Five years ago, Ratan Tata, chairman of Tata Group, where I work, asked his leadership team an apparently simple question: "If foreign companies can succeed in India, how can we acquire companies and succeed in foreign countries?" It unleashed an energy that has enabled Tata Group to acquire the Ritz-Carlton in Boston and the Campton Place Hotel in San Francisco, to manage the Pierre in New York City, and to acquire the British steelmaker Corus and the Korean truck maker Daewoo. Today, Tata Group gets more sales revenue from outside India than from inside, a dramatically different situation from just five years ago.
Gratton defines the second element, boundary spanning, as the capacity of people to exchange and combine knowledge. For instance, the book describes Carlos, a manager for BP in Venezuela who works across time zones, languages, and cultural differences to collaborate with Polly, the head of the Polish business team. Polly needs to turn around her business and Carlos supports her by sharing his own experiences. They meet only a couple of times, but Gratton explains how the pair end up creating a Hot Spot.
In writing about spanning boundaries, the author doesn't gloss over the challenges of cross-cultural communications. For example, she writes, "Some countries, particularly Asian countries, are more collectivistic; by contrast, the people in most Western countries are more autonomous." Having worked for global multinationals for three decades, I appreciate such sensitivity. For Westerners, getting a point of view across clearly is more important than protecting the recipient's feelings. The opposite is true in Asia.