Synthesis is hard because human beings tend to learn only what is needed in a specific context. We have evolved to survive in niches. That is why when successful managers move from one industry to another, they find it difficult to transfer their knowledge. Knowledge transfer requires creativity. Young people demonstrate Gardner's creating mind better than older people do. We see this in science, where younger workers are more likely to achieve breakthroughs than are older workers, who typically do synthesis. That is because older people lack inexperience. Freud once observed that when he was young, ideas came to him; as he aged, he had to "go halfway to meet them."
Of the two interpersonal minds, the respectful mind underscores the essential importance of affinity among human beings. For Gardner, being respectful means accepting our differences, learning to live with them, and valuing the traditions and habits of people who are different from us.
This approach is visible in multicultural societies such as the United States. India is an even more dra­matic example: It is simultaneously heterogeneous and bound together as one, despite some superficial evidence to the contrary. There is a Sanskrit word, Swikriti, that means acceptance — the idea that people are entitled to lead their lives without any attempt to judge or compare the quality or standing of one group with reference to another. The inclusive attitude inspired by Swikriti made it easier for India to accept the traditions of Christians, Jews, Parsis, Muslims, and other "migrants" when they settled in India.
The ethical mind answers questions such as, What does it mean to be a citizen of my community? My own experience has been that it is easier for managers to carry out good work in organizations and institutions that basically strive to be good. For example, Tata is ultimately owned by charitable trusts. The group has an institution (not physical, but virtual) called the Tata Relief Committee (TRC). This is a nonfunctioning committee in normal times. When any national calamity strikes (such as the tsunami in 2005), the TRC assembles itself autonomously. It collects money from Tata employees and companies and offers to do volunteer work in cooperation with the authorities, for example, rebuilding homes. A company that strives to be good enables its managers to be good.
Gardner's ideas about the ethical mind and the respectful mind seem to converge neatly with Gratton's more practical discussion of boundary spanning. Grat­ton describes the boundary spanners as "chameleons who tend to be especially sensitive and skilled in bridging interests, professions, and organizations" and "have the capacity to acquire and value differences in others with regard to culture or mindset."
It was these two types of intelligence that I believe led to the success of South Africa after the fall of apartheid. Under the leadership of President Nelson Mandela and of Archbishop Desmond Tutu and his Truth and Reconciliation Commission, we saw how an approach born of respect and concern for what is ethical led to a nationwide spirit of atonement that was extra­ordinary in its power to heal. In Gardner's and Gratton's terms, the two men demonstrated extraordinary interpersonal intelligence along with superior skill at boundary spanning. And it is because of their leadership that South Africa didn't disintegrate.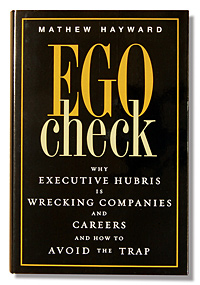 Crisis of Overconfidence
Mathew Hayward, the author of Ego Check, brings to his book the eclectic perspective of a merchant banker turned academic. Relying less on primary research than Gratton and Gardner, he astutely assembles other people's research, anecdotes, and narratives. The book is filled with stories of familiar contemporary business leaders — Michael Dell, Hank Greenberg, Steve Jobs, Jean-Marie Messier, and many more. Both personal stories and news stories are retold with insight and wisdom. Hayward rewards you with the satisfaction you get when someone has beautifully articulated what you instinctively know, but fear you may forget at crucial times.