Ultimately, no green initiative will succeed unless it has a proven value: better economics for the company, benefit to the customer, or a marketing advantage. To date, articulating this value has proven difficult. In terms of the bottom line, the costs and benefits of green sourcing have been diffuse and hard to quantify. As with quality, it has taken some time for green sourcing to move past its reputation as an expensive add-on valuable only to companies that are willing to pay more to assuage their ecological concerns. Customers, for their part, will buy green products or services in numbers that justify the investment only when the seller can conclusively show the benefits — that fuel costs are lower, that the products will last longer, or that the use of the service will be more pleasant and less wasteful than any alternatives.
The fundamentals of green sourcing are similar to those of quality in three ways: approach to costs, brand appeal, and cross-functional insights into processes.
Approach to costs. Traditionally, sourcing has been pressured to cut costs rather than to consider the sustainability of materials and services. But the underlying goal of both quality and green sourcing is the same: to eliminate waste. In eliminating waste, sourcing organizations gain a way to look at value rather than costs, by taking into account the total cost of ownership. Quality required companies to give up the idea that better products cost more to produce and raise prices for consumers; green sourcing means giving up the idea that environmental quality costs more. Take, for example, the trade-off between petroleum-based and soy-based lubricants used for manufacturing. At first glance, petroleum seems the cheaper choice, at $1,500 for an annual purchase of 300 gallons, compared to $3,195 for soy. But petroleum has costs that are not immediately obvious: $300 per year in waste costs, $2,400 in costs for spill administration, $1,000 in fees to minimize the waste from spills. When these factors are taken into account, the monetary cost of using petroleum-based lubricant for a year is $5,200 — and that's not considering the less-quantifiable environmental cost of using a nonrenewable resource. With no such add-ons, soy is clearly the more cost-effective choice in addition to being more environmentally friendly.
Furthermore, green sourcing leads to holistic efficiencies by forcing companies to pay continual attention to the whole supply chain and their overall carbon footprint. (See Exhibit 1.) The pitfalls of focusing on just one area were borne out by a study conducted for Trinity Mirror, a U.K. newspaper publisher, by the Carbon Trust, a U.K.-based research and advisory group, on how to reduce the ecological impact of Trinity Mirror's publications. The easy assumption is to move from virgin paper to recycled, but the Carbon Trust found it was not that simple. Looking at the entire value chain, the group determined that 80 percent of the total carbon emissions come from paper production. If the supplier that makes the paper uses a carbon energy source to make 50 percent recycled paper, it actually has greater carbon emissions than it would create using a hydraulic energy source to make 100 percent virgin paper. As a result, the Carbon Trust indicated that the ideal solution would be to buy paper with high recycled content from a supplier using low-carbon energy sources.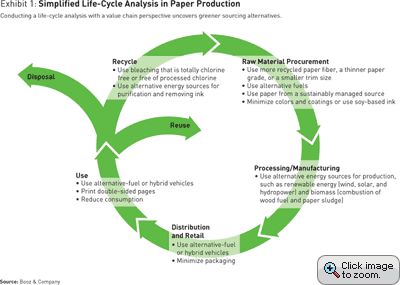 Brand appeal. Just as Ford Motor Company became indelibly associated with quality during the years of its "Quality Is Job One" ad campaign, a few forward-looking brands today are making green look both functional and cool. For companies that want to do the same, it's important for green sourcing initiatives to be tied to the brand's identity. Clif Bar & Company, for instance, makes energy bars out of organic ingredients and promotes a healthy, outdoorsy image; given that background, the company's espoused five aspirations (to support its planet, community, people, business, and brands) make sense, as do the measures that support these aspirations, such as purchasing all of its energy from NativeEnergy, a Native American–owned and farmer-owned renewable energy wind farm; running its fleet on biodiesel; substituting fractionated palm kernel oil for the more frequently used, chemically processed partially hydrogenated oil; and using recycled materials for packaging.