Even companies whose products don't evoke hikes in the Sierra Nevadas can build a green brand, sup­ported by the right initiatives. Look at the Starbucks Corporation. There is nothing intrinsically green about coffee, which had a successful run for many years without being tied to environmental sustainability. But from its inception, Starbucks has worked to minimize its environmental impact, whether in store design or the sourcing of its coffee beans, and it is always looking for new ways to do so. Recently, the company switched to thinner trash bags, which reduced the amount of plastic it sent to landfills by 750,000 pounds per year and produced annual savings of $500,000. The company has not been shy about sharing news of these efforts with consumers; support for the environment is a key part of Starbucks's brand proposition.
Cross-functional insights into processes. In evaluating the environmental impact of the value chain from end to end, the procurement function cannot act alone. It must develop a strong sourcing organization that ties together the supply chain, marketing, innovation, and research and development, as well as an operating model that sustains and supports ongoing collaboration with all these internal stakeholders and with external partners, such as suppliers.
An isolated sourcing organization that has not developed these links will be limited to small ventures into green sourcing, such as ordering recycled paper or reconditioned toner cartridges, rather than comprehensive changes such as those made by Trinity Mirror. Anheuser-Busch Companies Inc. provides a good example of how such partnerships can offer advantages that cannot be developed in a vacuum. In conjunction with its suppliers, Anheuser-Busch reduced the lid diameter for four types of cans, saving 17.5 million pounds of aluminum in 2006 — which not only reduced the amount of energy needed to produce, transport, and recycle the cans, but saved money as well.
Elements of an Initiative
To reap the benefits of green sourcing, companies must tackle the issue at a number of levels, from the visionary down to the tactical. (See Exhibit 2.)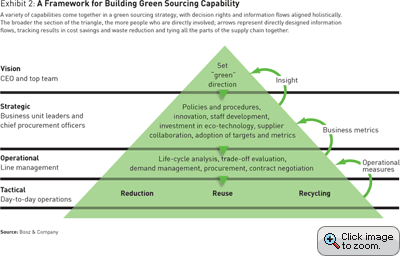 Setting a vision. Appropriately conceived, a green sourcing initiative allows a company to create an internal and external identity for itself, as opposed to having its identity defined by outsiders. In devising their overall green vision, companies should consider their brand image, mission, and history; companies with a portfolio of brands should look at each one to understand how its image can be linked to green initiatives. 3M, for example, has a 32-year history of building its green identity. It has defined its vision as a commitment "to actively contribute to sustainable development through environmental protection, social responsibility, and economic progress." To pursue this commitment, the company decided, among other things, to use life-cycle management across its broad product portfolio to continuously lighten the burden of its products on the environment, to set and achieve aggressive pollution prevention goals, and to make such prevention profitable by developing new technologies and products to serve that market. This strategy has led to the reformulation of many of 3M's products and processes, reducing the amount of pollutants it would otherwise have emitted by 2.6 billion pounds and saving a total of $1 billion.
Other companies are in earlier stages of this process. Cadbury Schweppes PLC, for example, launched its "Purple Goes Green" initiative, so named for the distinctive hue of its candy packaging, in 2007 with the goal of combating climate change by reducing its use of energy, packaging, and water. The company is backing up its vision by setting concrete goals to achieve by 2020: It aims to cut its carbon emissions in half; reduce its packaging by 10 percent per ton of product; introduce water-reduction programs in water-scarce sites; and use more environmentally sustainable forms of packaging, including 60 percent biodegradable and 100 percent recyclable packaging.