With an introduction by Ram Charan.
The heart of a company's business model should be game-changing innovation. This is not just the invention of new products and services, but the ability to systematically convert ideas into new offerings that alter the very context of the business.
As they lead to repeat purchases, these offerings reshape the market, so that the company is playing an entirely new (and profitable) game to which others must adapt. A number of game-changing innovators are operating today, including such household-name enterprises as Procter & Gamble, Nokia, the Lego Group, Apple, Hewlett-Packard, Honeywell, DuPont, and General Electric. Wherever you see a steady flow of noteworthy innovations from one company, you can probably assume that it is a game-changing innovator, with the distinctive kinds of social connections, culture, and supporting behaviors that enable it to play that role.
The strategy+business Collection: Don't Blame Your Culture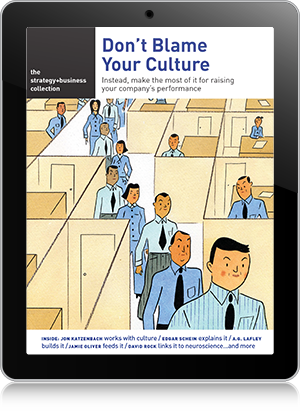 This article is featured in the strategy+business app "Don't Blame Your Culture," available for smartphone and tablet devices. The app pulls together s+b's best writing on organizational culture and change, featuring Jon Katzenbach, TV chef Jamie Oliver, former P&G CEO A.G. Lafley, and more, explaining why companies resist wholesale change, and how to make the most of the culture you have.
To download, select your device:
Consider the case of Procter & Gamble Company. Since A.G. Lafley became chief executive officer in 2000, the leaders of P&G have worked hard to make innovation part of the daily routine and to establish an innovation culture. Lafley and his team preserved the essential part of P&G's research and development capability — world-class technologists who are masters of the core technologies critical to the household and personal-care businesses — while also bringing more P&G employees outside R&D into the innovation game. They sought to create an enterprise-wide social system that would harness the skills and insights of people throughout the company and give them one common focus: the consumer. Without that kind of culture of innovation, a strategy of sustainable organic growth is far more difficult to achieve.
A.G. Lafley and I coauthored The Game-Changer: How You Can Drive Revenue and Profit Growth with Innovation (Crown Business, 2008) to explain how to make game-changing innovation drive growth on a consistent, well-paced basis. The critical factors that we cover in the book include keeping a laser-sharp focus on the customer; establishing a disciplined, repeatable, and scalable innovation process; creating organizational and funding mechanisms that support innovation; and demonstrating the kind of leadership necessary for profitable top-line growth as well as cost reduction.
One aspect of building an innovation culture deserves more attention than we could give it in The Game-Changer: designing a social system that would spark new ideas and enable critical decisions. In the article that follows, A.G. explains the human factors that fostered innovation at Procter & Gamble. It could be thought of as the "missing chapter" to The Game-Changer; a vital com­ponent that isn't always obvious, even to experts, precisely because it is so fundamental.
— Ram Charan
---
When I became CEO of Procter & Gamble in 2000, we were introducing new brands and products with a commercial success rate of 15 to 20 percent. In other words, for every six new product introductions, one would return our investment. This had been the prevailing ratio in our industry, consumer packaged goods, for a long time.
Today, our company's success rate runs between 50 and 60 percent. About half of our new products succeed. That's as high as we want the success rate to be. If we try to make it any higher, we'll be tempted to err on the side of caution, playing it safe by focusing on innovations with little game-changing potential.