Moreover, our experience suggests that many of the failures of innovation are social failures. Promising ideas, with real potential business value, often get left behind during the development process. Some innovations are timed too early for their market; others are lost in execution. Often, the root cause is poor social interaction; the right people simply don't engage in productive dialogue frequently enough.
For all these reasons, we consciously set in place a series of measures for building an open innovation culture at P&G.
"The Consumer Is Boss"
Procter & Gamble is known for its highly capable and motivated workforce. But in the early 2000s, our people were not oriented to any common strategic purpose. We had a corporate mission to meaningfully improve the everyday lives of the customers we served. If 15 seconds with a deodorant or two minutes with a disposable diaper have made a small part of your life a little bit better, then we've made a difference.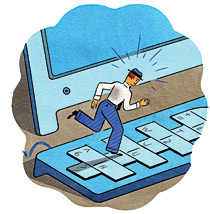 But we hadn't explicitly or inspirationally enrolled enough of our 100,000-plus people around the world in our mission; it was neither fully embraced by employees nor fully leveraged by the com­pany's leadership. Our innovation efforts suffered accordingly.
So we expanded our mission to in­clude the idea that "the consumer is boss." In other words, the people who buy and use P&G products are valued not just for their money, but as a rich source of in­formation and direction. If we can develop better ways of learning from them — by listening to them, observing them in their daily lives, and even living with them — then our mission is more likely to succeed. "The consumer is boss" became far more than a slogan to us. It was a clear, simple, and inclusive cultural priority for both our employees and our external stakeholders, such as suppliers and retail partners.
We also linked the concept directly to innovation. From the ideation stage through the purchase of a product, the consumer should be "the heart of all we do" at P&G. I talked about it that way at dozens of company town hall meetings during my first months as CEO. More and more people began thinking about how to apply the "consumer is boss" concept to their work. Resources were still scarce, and there were fierce debates about which ideas deserved the most attention and where to de­ploy money and people. But this concept came to matter more than those other concerns. People became more willing to subjugate their egos to the greater good — to improving consum­ers' lives.
It's natural for a mature company to be­come more insular. So we explicitly tried to build better connections with the people who bought our products. For example, in the early 1990s, we had acquired the Max Factor and Ellen Betrix cosmetic and fragrance lines from Revlon Inc. Innovation in fine fragrances had always been driven by fashion. With slow growth of 2 to 3 percent a year, low margins, and weak cash flow, fine fragrances didn't seem to be an attractive business for P&G. But we saw a chance to change the game.
We began by clearly and precisely defining the target consumer for each fragrance brand, and identifying subgroups of consumers for some brands. We didn't walk away from the traditional approaches of the fine fragrance business. We still maintained partnerships with established fashion houses, such as Dolce & Gabbana, Gucci, and Lacoste. But we also made the consumer our boss. We focused on a few big launches and on innovation that was meaningful to consumers, including fresh new scents, distinctive packaging, provocative marketing, and delightful in-store experiences. We also took advantage of our global scale and supply chain to reduce complexity and enable a significantly lower cost structure.