We maintain open work systems in a lot of places around the world. Executives' offices don't have doors. Leaders don't have a secretary cordoning them off. All the offices on the executive floor at Procter & Gamble are open; the conference room is an open, round space. We made it round as a small symbol of the new approach. We're seeing indications that this new social process is catching on all over the world.
The Talent Component
P&G used to recruit for values, brains, accomplishment, and leadership. We still look for these qualities, but we also look for agility and flexibility. We believe the "soft" skills of emotional intelligence — fundamental social skills such as self-awareness, self-fulfillment, and empathy — are needed to complement the traditional IQ skills. (See "Tea and Empathy with Daniel Goleman," by Lawrence M. Fisher, s+b, Autumn 2008.) Maybe "soft" isn't the right word: These skills are every bit as hard to master as some tough analytical skills. People just learn them in a different way.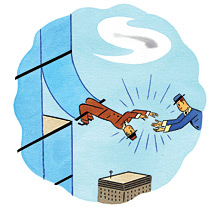 Some people at Procter & Gamble have struggled with this new approach, but most of our best people have done really well with it. Curiosity, collaboration, and connectedness are easy to talk about but difficult to develop in practice. We have tried to carefully identify and ease out people who are controlling or insecure, who don't want to share, open up, or learn — who are not curious. And in the process, we have discovered that most of our people are naturally collaborative.
We also try to de­velop people by giving them new stimulation and greater challenges. As they move through their careers, we deliberately increase the complexity of their assignments. That might mean entering a market that's not developed yet or a market with a competitor already firmly established. Whatever the challenge, it stretches them.
We give our most promising people time in both functional and line positions, because we think our best leaders are great operating leaders and great innovation leaders. We also move people around geographically. We bring people into our Cincinnati headquarters from around the world, and we make a point of moving our headquarters people to our global businesses. Almost all of us have worked outside our home region. Almost all of us have worked in developing or emerging markets. And almost all of us have worked across the businesses. We track that progress very carefully.
We've been fortunate that some of this flexible, multifaceted ethic exists in our heritage. For example, Procter & Gamble pioneered a technician-based system in its manufacturing plants during the 1960s and '70s. In this system, we avoided the ap­proach in which one person was as­signed to do only one job. The technician system still operates to­day: To get the highest evaluation rating in a P&G factory, you learn how to do all the jobs on the line. And, once you have that rating, we expect you to be capable of problem identification, problem solving, and in­novation. This background has made it easier for us to plug manufacturing and engineering into the innovation culture.
Once people have succeeded at innovation, you can see the energy in the company changing. People routinely say, "We can do this. This is feasible." The attitude changes are incredible to watch; once people see the simplicity, durability, and sustainability of an innovative mind-set, it continually reinforces itself.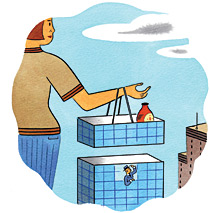 On average, younger managers and younger employees are more open to fresh, innovative thinking. Since 2000, we've lowered the average age of our people by almost 10 years because of our acquisitions and our moves in emerging markets. We have also recently brought in people from outside to enable and stimulate creative thinking. This was unprecedented for a company that has traditionally hired only entry-level people and promoted from within.