Odyssey of a Participant–Observer
The value of social intelligence was apparent to Dan Goleman early in his life. Born in 1946, he grew up in a Jewish, intellectual household in Stockton, an agricultural town in California's central valley. Both his parents were professors at the University of the Pacific: his mother in sociology and his father in humanities. (One of his father's students was jazz musician Dave Brubeck, who later wrote an oratorio in the elder Goleman's honor.) Daniel grew up feeling like a "participant–observer" in his hometown. "I was the only kid I knew with lots of books at home," he recalls.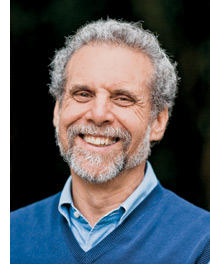 Yet he was sufficiently popular in high school to be elected student body president, a position that helped gain him a scholarship to Amherst College. A Ford Foundation fellowship then took him to Harvard for graduate school in psychology. There his mentor, and sometime landlord, was David McClelland, author of The Achieving Society (Van Nostrand, 1961) and perhaps the first author to propose that career performance is related to a range of abilities and not just logic or analysis. (McClelland's original work on competencies led to much of the skill-based assessment and evaluation methodology used by corporations today.) McClelland's large Cambridge home was known for loud parties that carried on late into the night, and Goleman dates some of his closest friendships from those evenings.
While at Harvard in the late 1960s, Goleman began practicing transcendental meditation; he spent a year in India studying with Buddhist scholars. His doctoral thesis was on meditation, as was his first book, The Meditative Mind: The Varieties of Meditative Experience (St. Martin's Press, 1988). He has since edited two books of conversations between scientists and the Dalai Lama. "I realized there were these elaborate systems of psychology, some of them millennia old," he says. "I wanted to draw attention to these Eastern systems, and I made a bet that this would be important in Western psychology, but I was too early."
The Harvard psychology faculty was not impressed, and he obtained only a low-level, non–tenure track teaching engagement there. Frustrated, he left to join the staff of the magazine Psychology Today, where his work eventually caught the eye of a science editor at the New York Times. He published more than 500 articles about psychology in the Times between 1984 and 1996, often with a focus on the workplace. (One of his first, published January 31, 1984, was headlined, "Boss seen as best buffer against stress.") But the Times, like Harvard, never gave him a staff position, and when he wrote at length about emotional intelligence for the paper's Sunday magazine, the article was killed. Then his book appeared, Time magazine featured him on its cover, and sales took off.
The runaway success of Emotional Intelligence changed the lives of everyone involved, even the people whose work Goleman briefly described within. Howard Gardner had been well known in academic circles, but was hardly accustomed to fielding calls from talk-show hosts. Peter Salovey and Jack Mayer found that the sudden spotlight on their work brought a mixture of welcome recognition and uncomfortable intrusion. As a cottage industry of self-described emotional intelligence coaches and consultants emerged, the research psychologists who had first coined the term found themselves cast in the role of guardians of its credibility.
"Very rudimentary ways to measure emotional intelligence started to appear that were clearly not accurate," says Salovey. "When we saw some of [the less substantiated work] starting to be used by scientists, we became alarmed. So we became very involved in developing scientifically tested psychometric studies to mea­sure EI." That, in turn, led to a renewed focus on the measurability of emotional intelligence.